Our Wedding | Invitations
"open in the name of the king!
an urgent message from his imperial majesty"
cinderella receives an invitation to the ball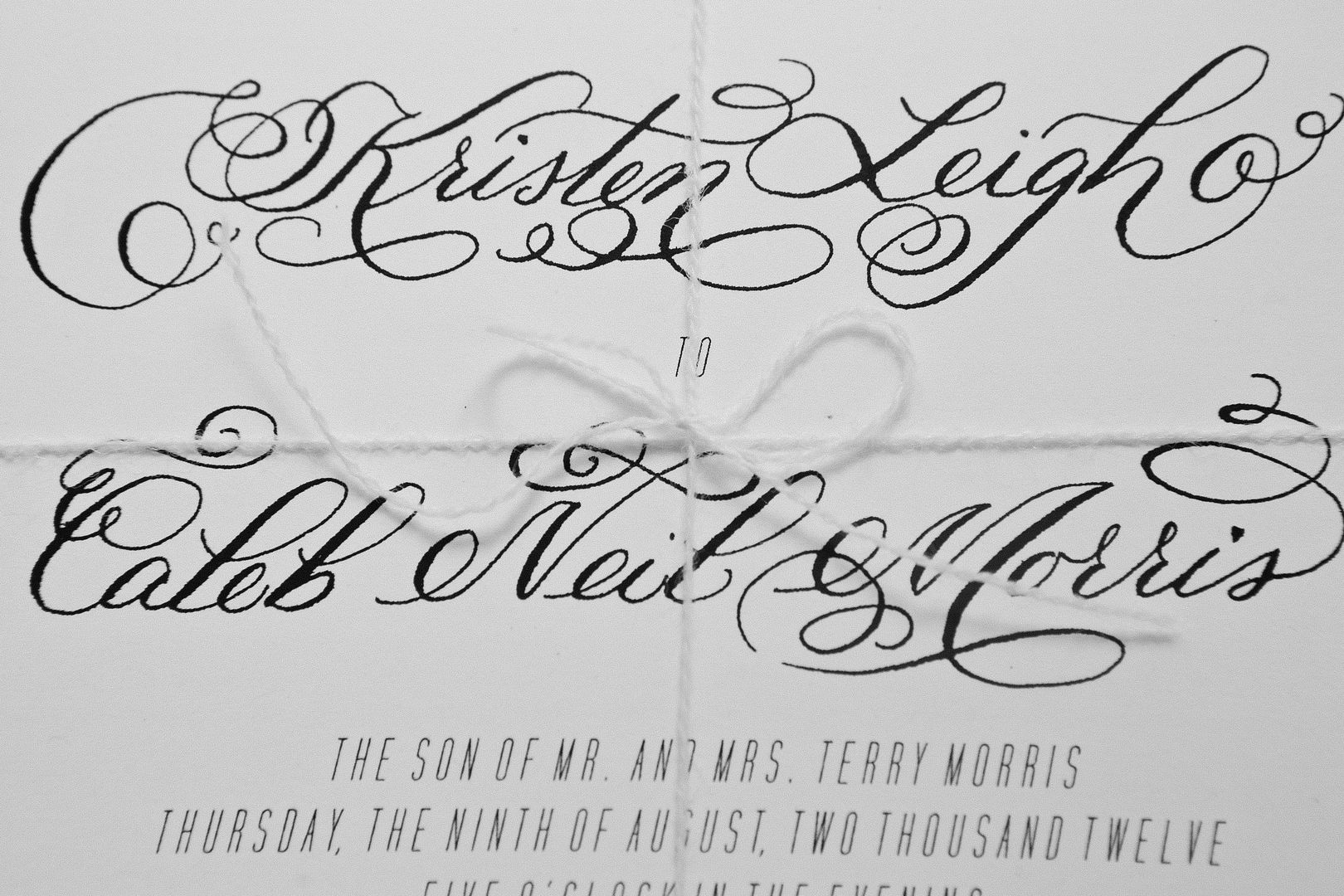 Call me "Georje Bahnks, Georja BAHNKS," because I feel like I'm walking through my allegorical wedding "mess." Cue the fizzing champagne bubbles. "I used to think a wedding was a simple affair." As thrilled as I am to be living as a wife and as happy as I am about the great adventure of life before us, I can't help but play through our last few days of engagement and our wedding day. We had a truly wonderful time planning our wedding. The hardest week, was also the fastest week, and was also the last week ;) I love being a wife more than being a fiance' or bride, but I loved both of those roles. In every way.
So now? As I wait to see my own wedding pictures from Shannon, I'm going to unveil little bits of our day. Today is our invitations! I talked about our wedding inspiration in the spring and I'm thrilled with how our ideas turned into real products we could touch and keep. Here's a little refresher on the feel we were hoping for (that whole playful-yet-royal, childlike-yet-elegant vibe? Remember?):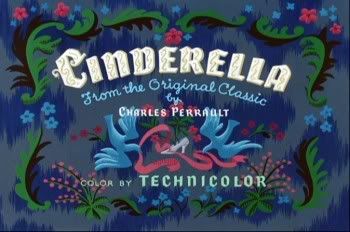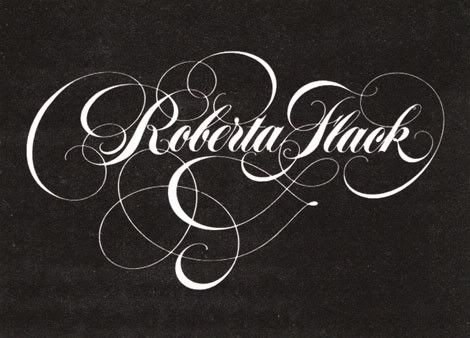 We made our invitations ourselves, and I knew exactly what I wanted them to look like (well, almost exactly.) I designed the invitation-wording in photoshop. I can't tell you how many slim sans-serif fonts I looked through! And as much as I would have loved to have hand-calligraphed invitations, I found a very budget-friendly solution!
Calligraphy by Hilary
hand wrote our names and then sent me the jpeg file over e-mail. I loved having custom handwriting (instead of a script font) - it felt very Cinderella to my heart ;) Two colored card stock squares and thread finished off these babies!
She also hand wrote and then made a stamp with our return address. This was also so nice because we didn't have to worry about printing on the letterpress envelopes and something feels satisfying and old-fashioned about stamping from ink pad to paper!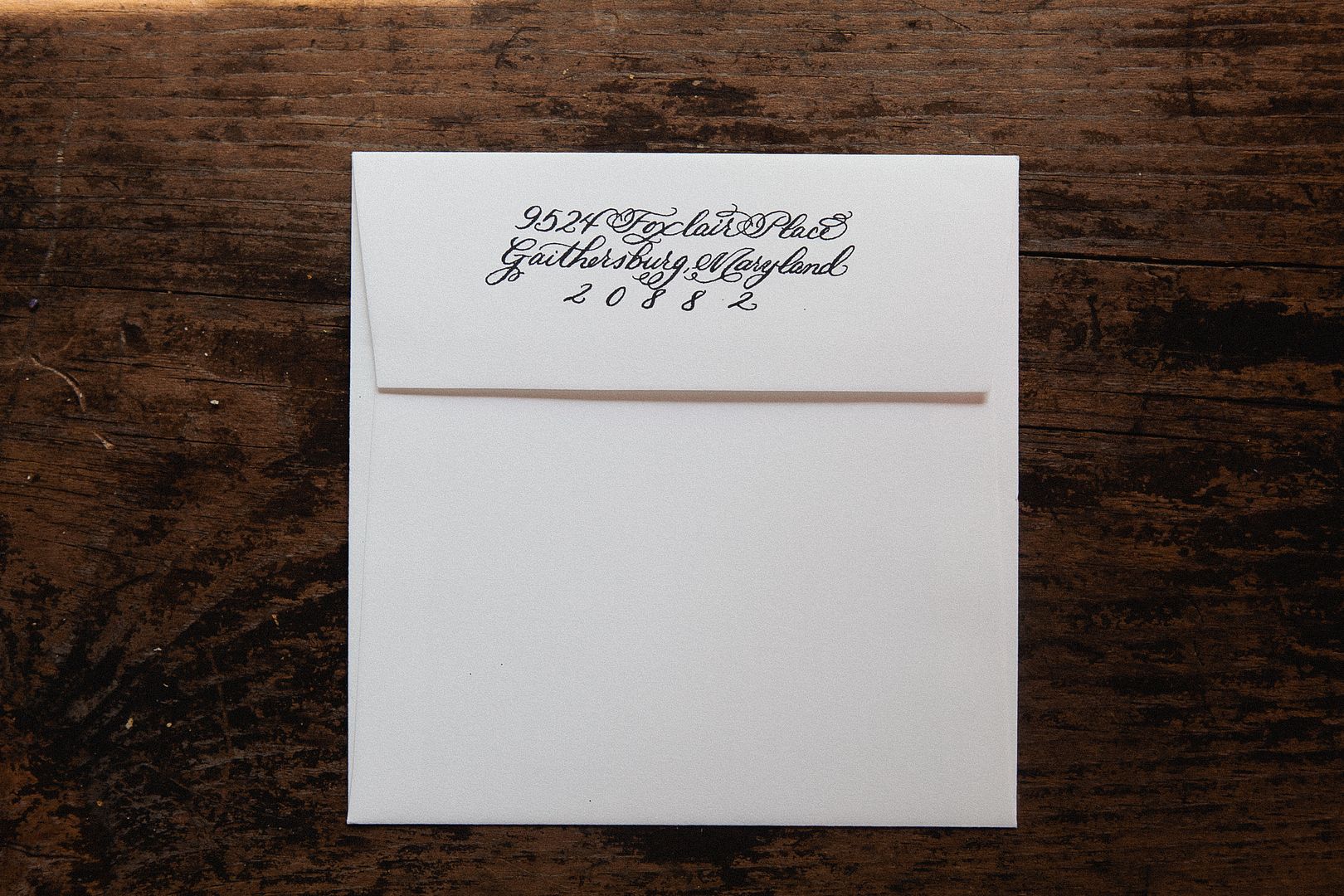 The inner envelope was a spanking gold vellum with confetti-glitter band. Double sided tape for the win. (Special thanks to my new mother-in-law for hand punching all the confetti for me!)
The final product!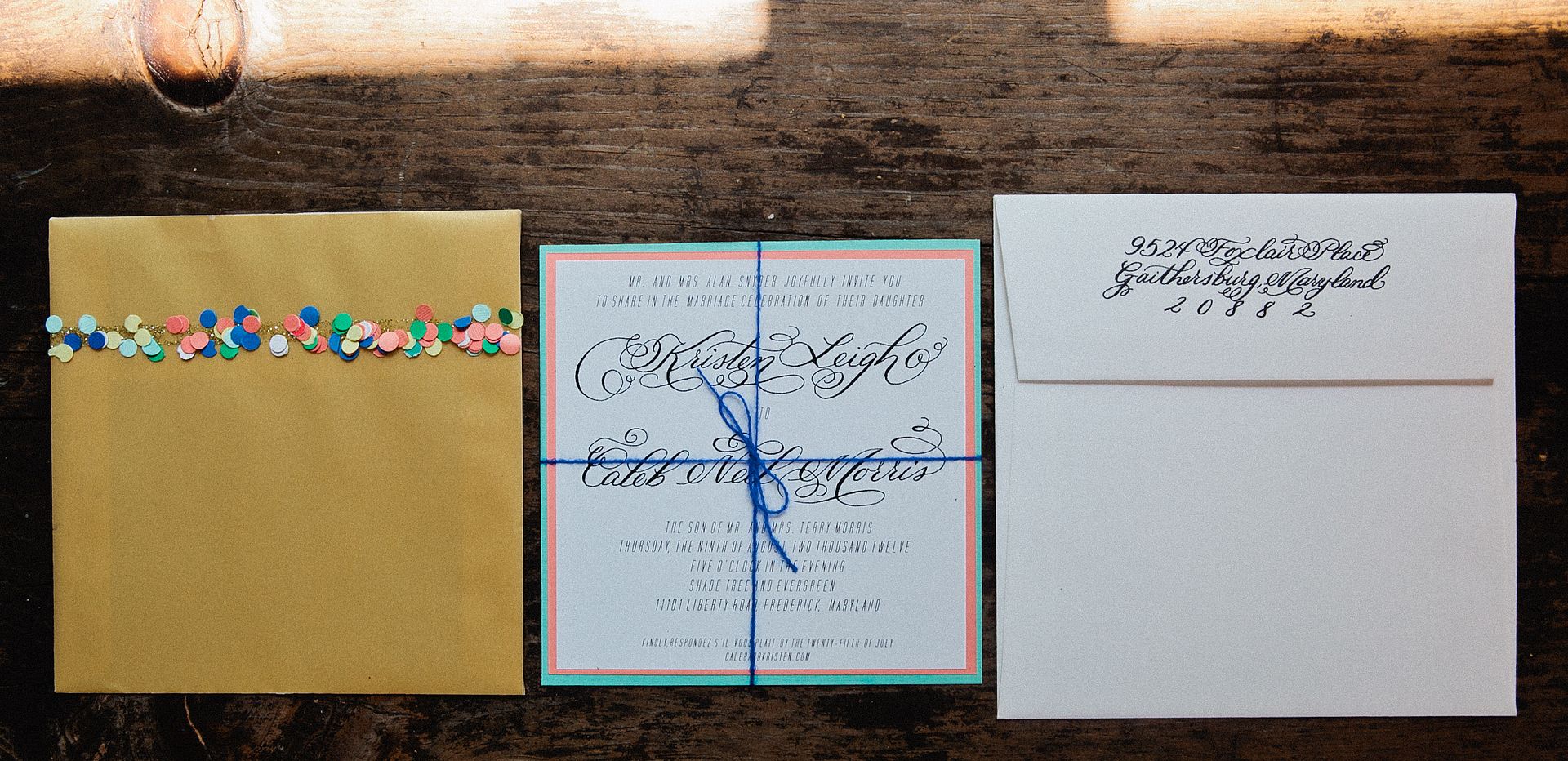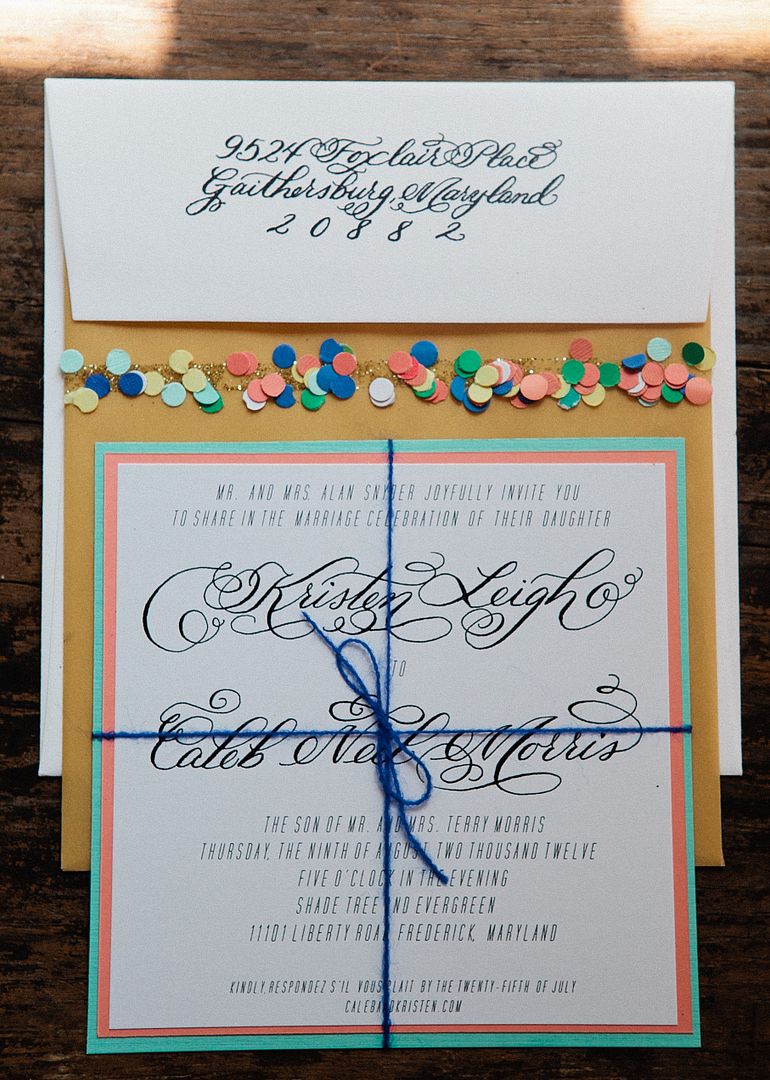 We ended up using five or six different colors of card stock. I couldn't make up my mind and just pick two! Haha!
A close-up of the stamp. When it went well... it went really well. When it was messy, it was REALLY messy. I don't even want to know how many envelopes we had to toss ;)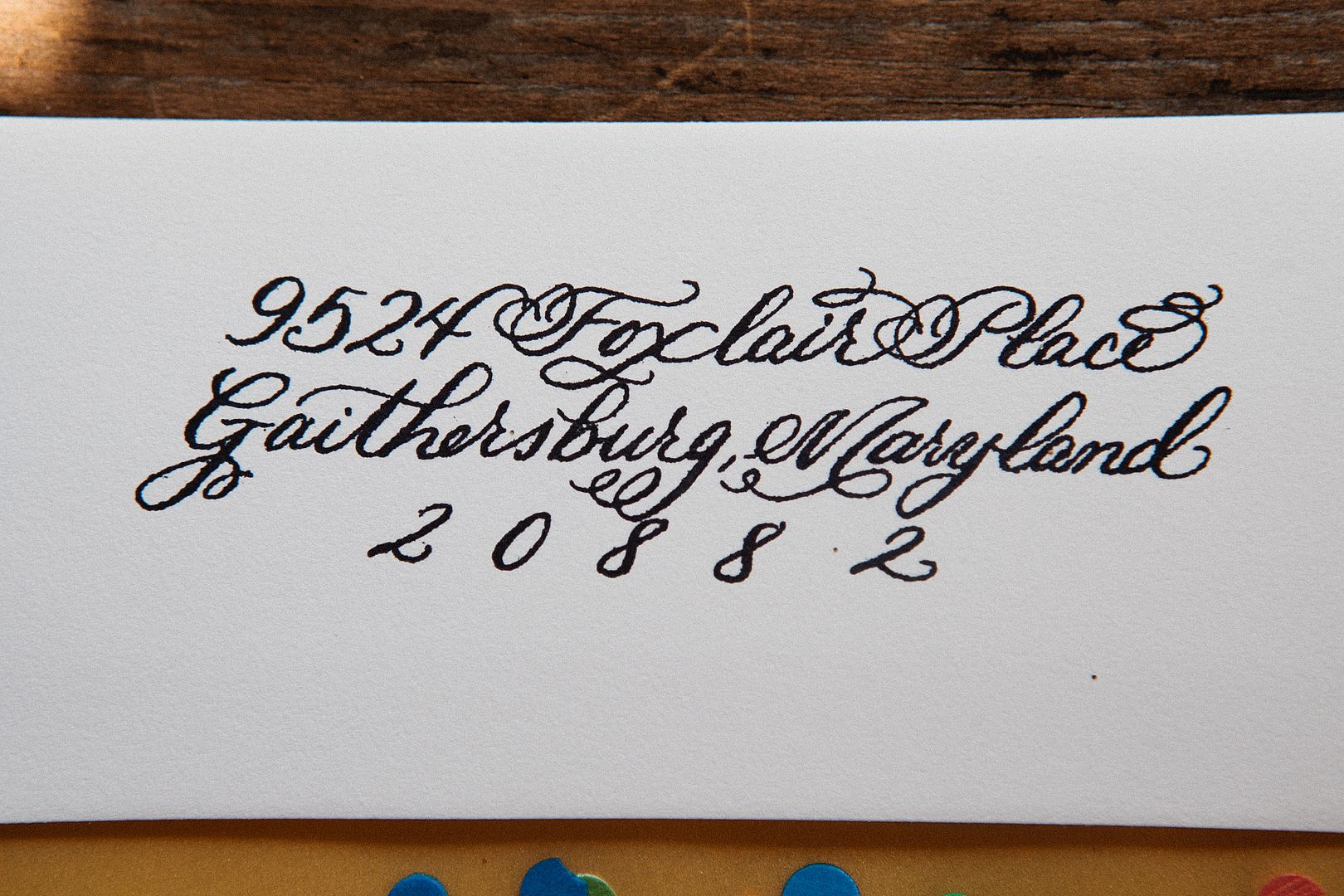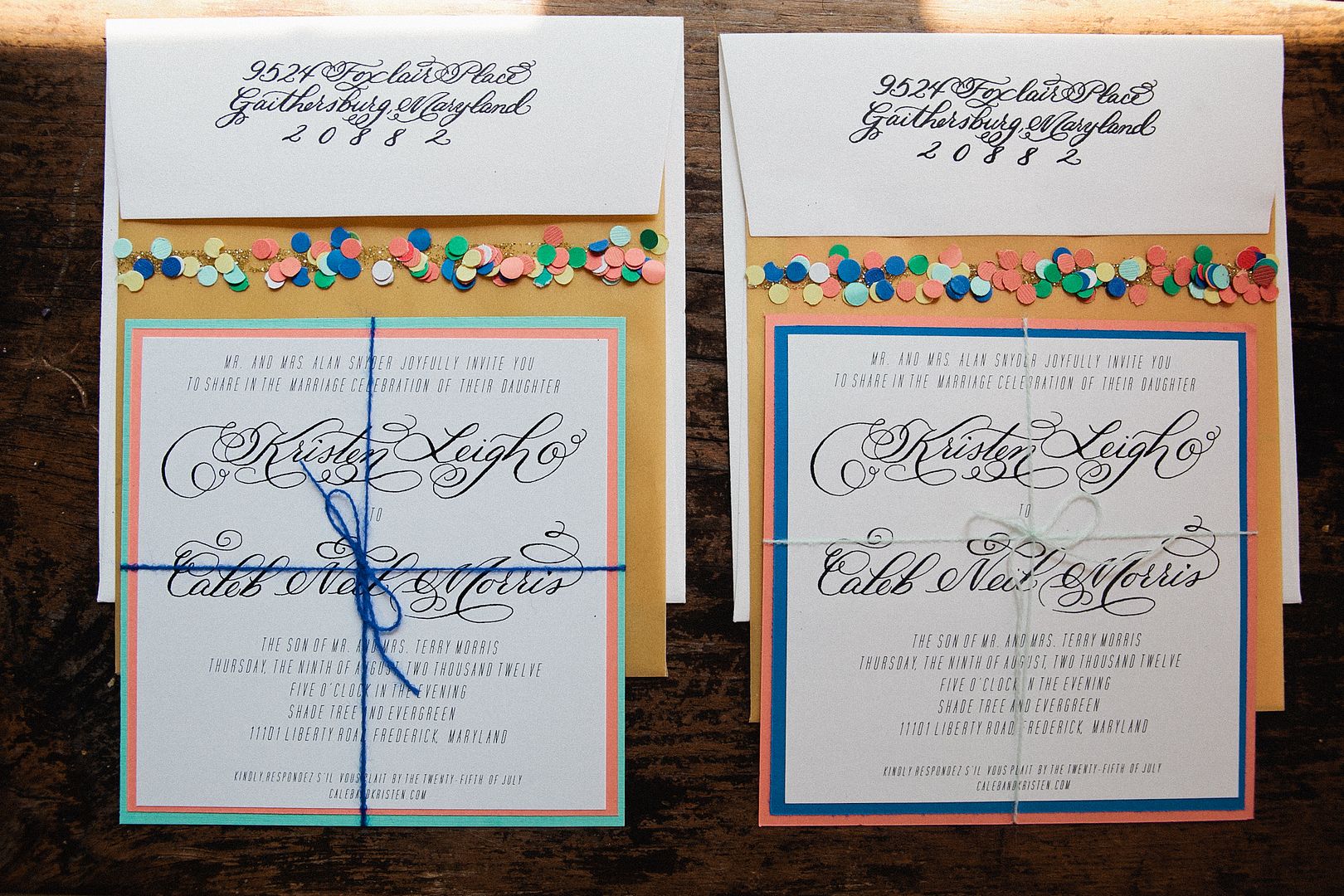 A few thoughts (tips? lessons?) if you make your own wedding invitations:
1 // Have my friends.
Starting with Caleb, then to my mother, then to my Aunt Pam and Becca, Janet, Lydia, Katie... they helped, worked, tied, cut, counted and breathed these into existence. It got a
little
frustrating at times (printer formatting, blade-breaking, wrong measurements, etc), but the crew didn't give on me!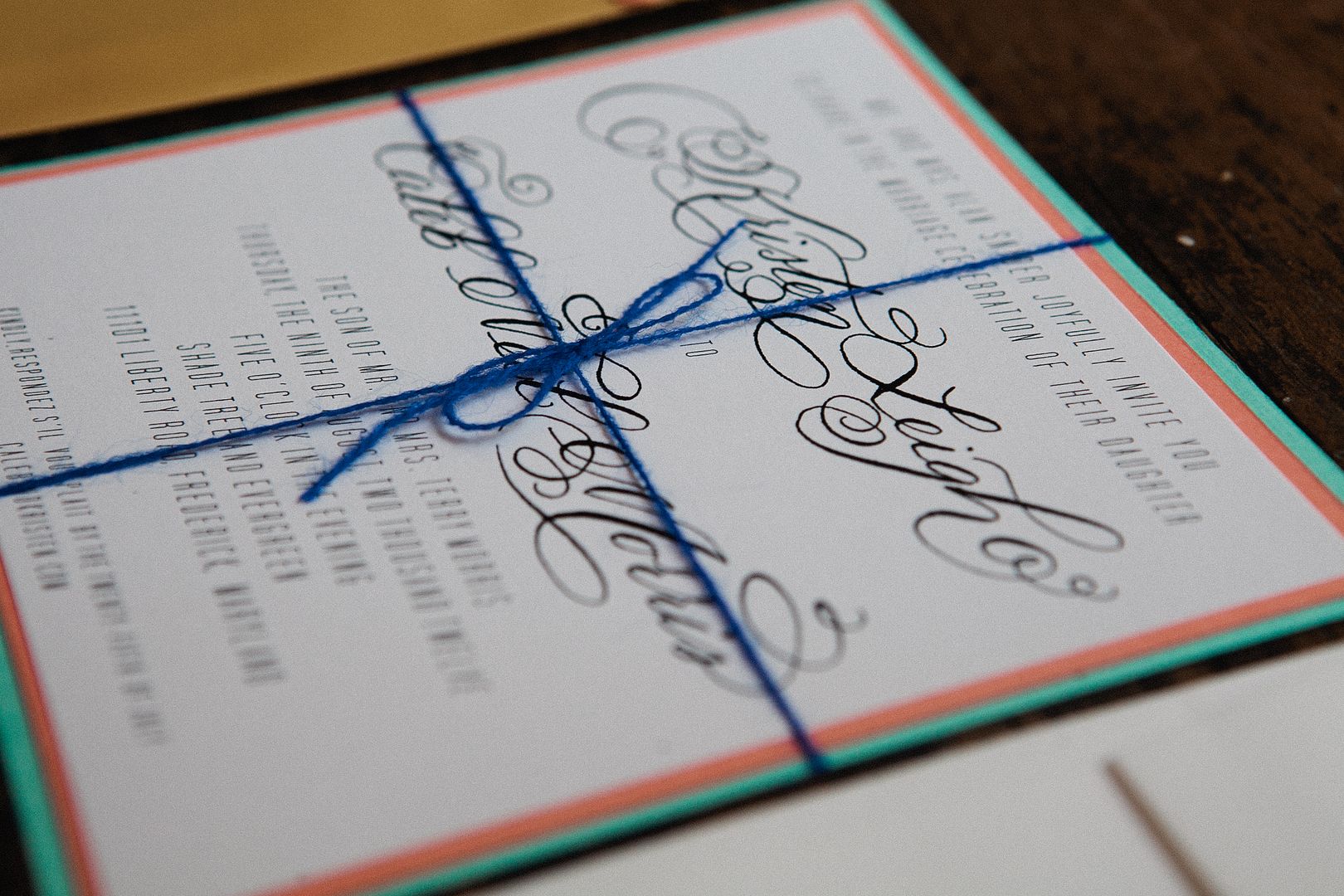 2 // The details are worth it.
Once we started the project we weren't sure if we
had
to have the bow. Or if we
had
to include the gold glitter. But I'm so glad we pressed on and did those extra steps... even at 11:30 pm in a Florida hotel room the night before my entire family moved back to Maryland. I wish I had planned better? But I don't wish we had skipped the "little things." I love how they added to - possibly even made! - the whole look.
3 // Buy your own paper, but let someone else print and cut it.
Unless you have a commercial printer, heavy duty paper cutter and warm comfort food on hand, I do not suggest doing this part yourself. After a few days of printing/cutting, uh...haha, fun?, I finally took the invitation file and white card stock over to FedEx office. An hour and $12 later everything was
perfectly
cut and crisply printed. I should have done that from the start. The paper there is a little pricey, however. So go do your good amazon.com or coupon/sale/deal hunting and bring your paper to them. So worth it.
4 // Have fun with the wording.
I loved writing out the invitation and choosing the words very carefully. Joyfully. Celebration. Respondez S'il Vous Plait. I say: say what you want to say, not what "the websites" tell you to say. Does that make sense? Use words you love and make it your own. I say. You say. We all say for ice-cray!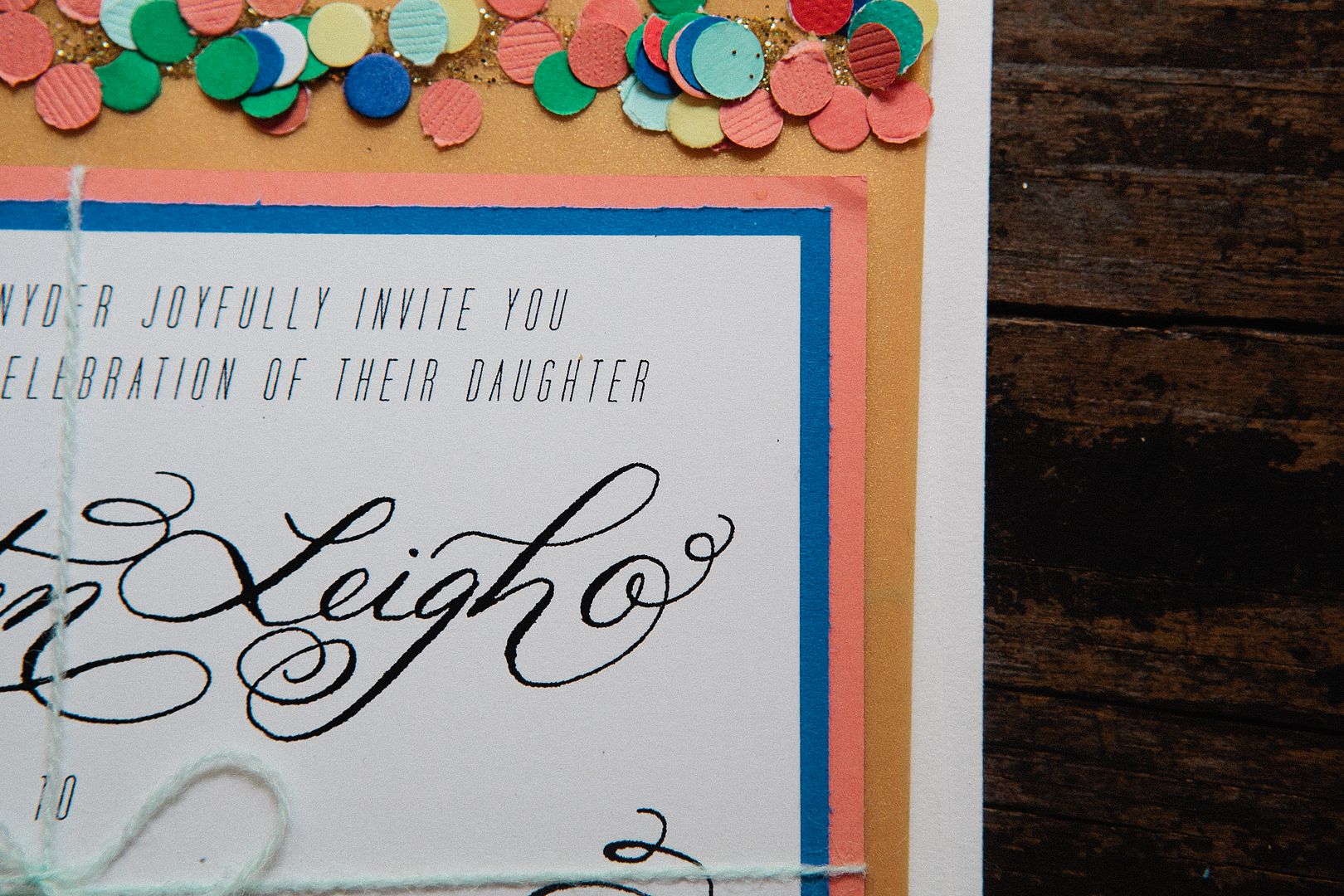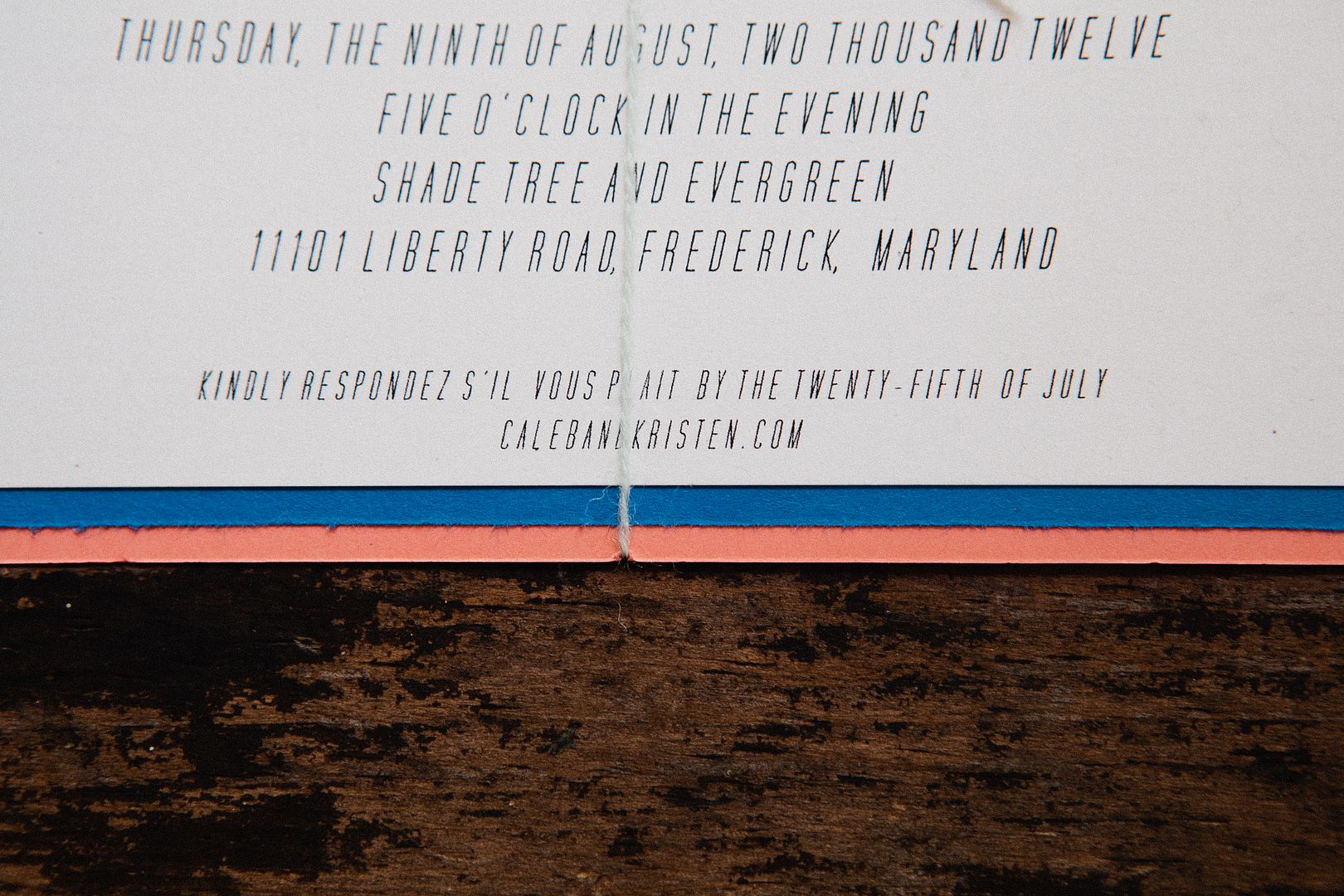 5 // Invite me to your wedding.
I just love weddings - more than ever. So I want to come.
;)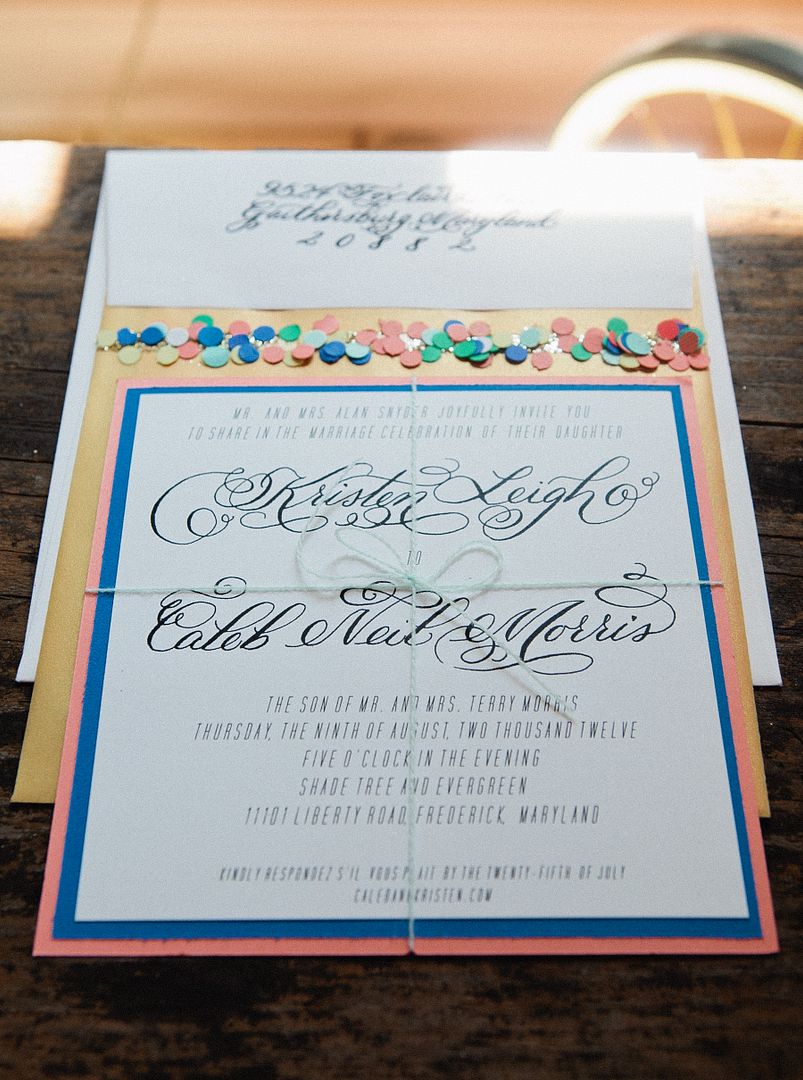 I was so pleased with how these turned out. Especially because I think they complimented the other paper goods (the
bridesmaids books
, the programs, the table cards) but they also gave such a perfect introduction to our wedding. And after all his grumpy, doting dad-ness, George was right: getting married is a NOT the same as "having a wedding." And we girls do love our weddings... and the perfect "welcome" to the wedding really matters sometimes.