Enjoy Writing | Oh My My My | Part 9
the sails of memory rip open in silence
josh ritter - change of time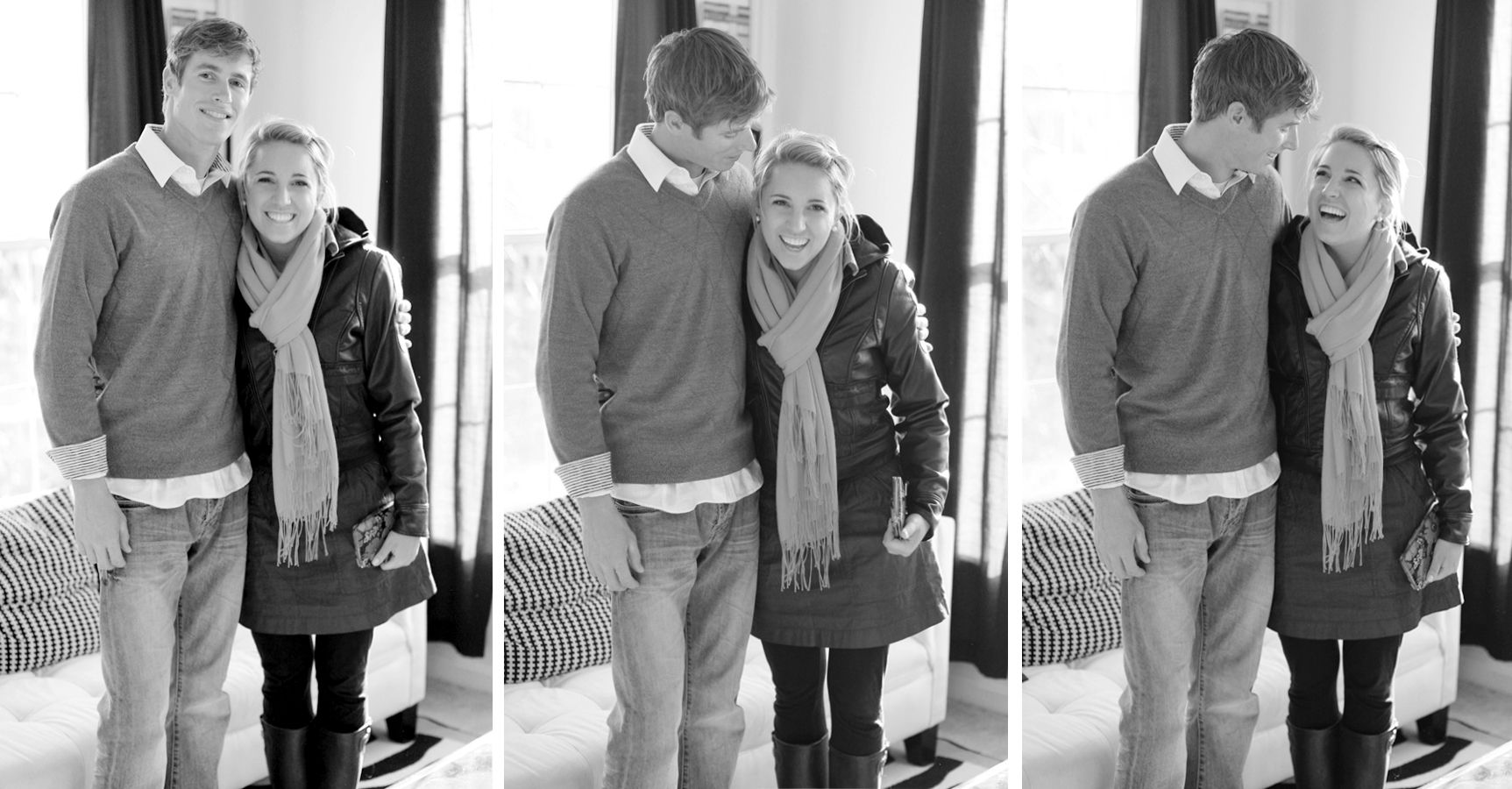 part 1
|
part 2
|
part 3
|
part 4
|
part
5
| part 6
| part 7 | part 8
--
Shamefully nestled into my seat, knowing that the all the passengers were staring at me (I was sure of it), I pulled out my phone to text Caleb. "Good bye! Thank you for coming! I had a wonderful time with you." The flight attendant gave my eyes. I shut my phone off and literally within 90 seconds of sitting in my seat, the plane was moving to the runway.
I looked out my tiny window and scanned the big airport window. Caleb was standing inside the giant window, watching the flying bird carrying his crush soar away into a rising sky. He cried. I couldn't see him but I knew he was standing there. The sunrise. The sudden departure. The whole "event" of chasing this girl all the way down to Florida. He couldn't help but cry.
A teary cowboy watched my plane until there was nothing more to watch and he moseyed over to his terminal. He had to take a train and go through security again (all alone.) He successfully found his building and security line, so he started through the still intimidating and not natural routine of "ID and boarding pass out, take shoes off, grab two bins, suitcase up, ID and boarding pass put away, boom, boom, wave through, grab your things, GET REDRESSED AND PACKED LIKE MAD." Moving a touch slow for everyone's taste, he neatly set his wallet and phone in a gray box. Then he decided to just stick them inside his lady-leather carry-on. When he opened the zipper he saw a neatly folded paper towel.
Even though it was early in the morning, before I left I managed to scribble a little note onto a paper towel. I had intended to write a note on a card, or at least a piece of paper, but in between Listerine swishes and buttering bagels, a paper towel was the best I could do.
"Hey friiiiiend! Thank you for coming. Seriously. What an awesome, surprising, fun, memorable Christmas. Spontaneous is best, right? You are an amazing guy (who has an amazing taste in jackets ;-) Thank you for that, again. I'm wearing it now + still love it. I hope I wasn't too annoying, Craig haha Talk to you... soon? Def. Kristen! ps. Click!"
He stopped in his tracks and he labored to read every word. When Caleb does something, he does it only and fully. His focus is incredible, his multi-tasking suffers for it. There he was, mid-security line, shoe-less, with an open bag, standing perfectly still reading a paper towel as workers and passengers flitted around him. He nearly cried again. He thought the note was so sweet. How did she stick this in here? I never saw her near my bag! That sneaky little girl. "Excuse me, sir." A morning flyer brought Caleb to reality and he realized the line was backing up on him and there was no one ahead of him anyone. With a few tucks, slides, beeps and "Go ahead's" Caleb was on his way back to Oklahoma.
From December 27 until the end of January we had fun being long-distance "just friends." The past two weeks had been quite a roller-coaster and we needed a chance for our feelings to settle, our brains to snap into normal, and our hearts to have the freedom to try. Our talks were rarely shorter than an hour and a half and consistently longer than three hours. Caleb usually had to wake up for a full 10-hour construction work day at 5:00 or 6:00 am, so talks that lingered until 2:00 am were very exhilarating at first, but eventually kind of exhausting for him. Nonetheless we texted or talked every single day. Caleb had never had a girl dig and chip away and search him out the way that I did, and I had never had a guy be so honest, precious and just... happy!.... the way Caleb was. With all the hours of lovely conversation building, I was still very hesitant on my end. It was the "this all looks perfect on paper, but does he really fit with me? Does this feel the way it's supposed to feel?" "thing." Because, you see, our conversations were often and regularly about deep discussion topics and long "oh! I have a good story!" but there was absolutely that addicting flirty banter back and forth. He had a slew of nicknames for me... Little Girl, City Girl, Little, Girly Girl, City Slicker and Snipe. My nicknames for him were as obvious as Cowboy or SlimJim, to Claude and Craig, to Wheat Thins and Granola. I'm such a sweatheart ;) But I knew he liked me, a lot, even though he didn't come out and say it.
texting allll the time...
He told me he thought I was very pretty. He never missed a phone call. He always affirmed how much he enjoyed our conversations and, well, me. He thanked me for taking his call every time we spoke. He made me laugh with his innocent formality. He told me that I made him want to be a better man. That he'd never met a single girl like me. That he can't believe I would even want to talk to him. I was more guarded in my compliments, but felt similarly. Incredible man. Never met one like him. SHOCKED that he wants to talk with me. I was sure I would be "too much" for him and scare him away. I was determined through all these phone calls and texts to be myself and not who I thought he was looking for. I was determined to ask real and hard questions. I was determined to joke with my sense of humor, and not tone it down because I thought he was more conservative than I was. (I'll never forget the night I taught him what "That's what she said..." means, and how he whipped a TWSS joke minutes later. It would be like your grandmother saying that... It was hilarious. Too much fun.)
But I didn't have "the butterflies." As we connected more and more, and as he slowly started opening up to me, and getting off his "script" the more nervous I found myself. I don't want to hurt him. He's so nice. He's been so patient. And protected. Should we even keep talking? You know the drill ;) I "liked" him (what wasn't to like?!) but I wasn't sure if I liked-him-liked-him. His personality was so simple, so slow, so thoughtful and quiet. That is never what I pictured for myself. I pictured someone like my dad: loud, hilarious, outgoing, opinionated, in command, never without words to say! And here I found myself night after night in steady, patient dialogue with a shy, unsure, gentle man. What the what?
One night at Costco over our $1.25 meals, I unveiled my deep and totally not over-exxagerated hypothesis of Caleb and I to Dre and Becca. "Well, it's like this: there are four main things you must have: Character/Morals, Physical Attraction/Chemistry, Same Life Goals and Personality Connection. [By the way, I don't know where I got that from or why I decided now was the time to assess such matters, but I was pretty adamant that I knew my stuff.] Caleb is totally hot, he's practically perfect when it comes to character and walk with the Lord, and we have the EXACT same life goals and view for our future. But our personalities? I don't know if we fit." Apparently I'd never heard the phrase "Opposites attract."
I called a good friend, Kelley, and she gave me some good advice: Let your head do the talking, and see if your heart follows. If he's a good man, a good friend, and you find him decently attractive, don't bail too soon. The best relationships start with solid friendships and often romance follows. Be patient. This is normal. It's okay. It was very helpful, but I was still on edge.
An old ER re-run summed it up perfectly for me: "I spend 23 hours a day wondering whether we're wrong for each other, wondering whether we've got the energy that we need to get through everything that we seem to get into, whether the baggage we both bring would sink a small ship. But in the 24th hour, I realize I've been thinking about [him] for 23 hours and I come back to there's something about [him], I can't stay away from. Something about [him], that makes me want to love [him]."
As confused as I was about my feelings, I distinctly remember how strange it was to end our phone calls with just "Good night" and not "Good night, I love you." I bit my tongue and often almost said "I love you!" many times. I had to stop myself. I didn't feel in love - like I said before, I wanted to know where those stupid butterflies were! They were still caterpillars, but don't worry nervous Kristen, they were there. Not in the form you imagined, or the way you were looking for them. It's only a change of time. Time, Love. Time, Love. If Caleb ever had a night where he couldn't talk on the phone, I felt desperately alone, even a room full of my best friends. If he didn't text me after work like usual, I would unnecessarily have an emotional shutdown because he had probably met another girl that day. It was all quite weird. I never forgot about him. He was constantly on my mind. Yet I constantly worried and "what-if'd." Women.
In the middle of January Caleb announced that he had a surprise for me. Ooooo! I like surprises! What is this, my good sir! He was coming to Maryland in a couple weekends. He was coooming to seeEee me. In the ciiiIiity. Because he miiiIiissed me. And wants to seeeEe me. (Said in the Sandra Bullock "Miss Congeniality" voice.)
I started making plans. Okay! On Friday we'll have dinner with my dad and Courtney, then on Saturday we'll do DC with the Klesses, but during the day we'll see Lydia and my small group friends, Sunday we'll go to Chipotle with Kyle and Ashley, then have Thai with Julie and David. Maybe Lydia and Courtney can come to that, too? He'll stay at the Remsnyder's so we'll see them for lunch on... hm. Maybe Saturday? No. Breakfast on Saturday! We have to ride the Metro. And he has to go to Adam's Morgan and discover what real pizza tastes like. And the monuments! He's never been to such a big city! Let alone the nation's Capital!
I couldn't help myself. I counted down the days until his arrival, I discovered that he had another surprise up his sleeve (which was to come into town early enough to watch me coach my beloved basketball team), I meal and menu-planned. I grocery shopped and prepared food (making sure his favorites snacks were on hand). I made GRAPHS and LISTS. I even spent an entire afternoon picking my outfits, washing the Grand Prix Winners, and then hanging them on coordinating hangers (complete with underwear, shoes and socks!) and lining them across doorways in my bedroom. No, I didn't likelike this guy at all.
January 21 couldn't come fast enough for this not-planner, totally-crushing, in-denial girl. But it came. In classic Kristen and Caleb glory. Caleb's plan was to get into Baltimore around noon. I was going to pick him up and drive him back to my apartment (my dad was also in town and staying at my apartment with me) where we would feast on Spicy Bacon Pasta in White Sauce with green beans, and cream puffs for dessert! After lunch we would head over to school at 3:00 pm for warm-ups and the game. At 6:00 am Caleb sat on his plane in Oklahoma, ready for the weekend of a lifetime. And he sat. And sat. And... sat. Thanks to mechanical problems, his plan to Detroit was two hours late. Which, of course, meant that he would probably miss his lay-over. Which meant, of course, that he would not be getting into Maryland at 11:55 am. And of course the next flight into Baltimore landed at 6:45 pm. We texted rapidly. I sat on the computer looking for American Airlines flights from Detroit to Washington DC, not Baltimore. If Caleb's flight could leave by 8:15 am, he could *maybe* get on the DC flight and land there at 3:45 pm. My game started at 4:00 and DC traffic is what nightmares are made of, but I thought it could work. I rallied the troops together. Lydia was going to be my hero and pick Caleb up wherever he flew in, at whatever time he got there. We all waited and prayed while Caleb was in Detroit: prayed for no weather storms, prayed for an available seat, prayed for HIM TO FREAKING GET HERE AND EAT THE BUCKETS OF FOOD AWAITING HIM.
When Caleb landed in Detroit he sprinted to a Ticket Counter Helper Lady and tried to explain his situation. He later told me that she was trying not to laugh at him the whole time. He was gasping for breath, stuttering his words, slightly moist and very country flustered. She got his flight changed. He had plenty of time to board. Nonetheless, he scurried into a sea of rolling suitcases and gossip magazines and she called after him "You don't have to run! You're going to make it!" He ran. One thing on his mind at a time, remember? And only his third airport experience in his life. Poor sweet boy. What a beautiful mess.
Happily, he landed in enough time to get to the second-half of my game. He and Lydia chatted about trees and travel on their way to the gym. I, thank God, was coaching the closest game of my life, so I was very focused and undistracted. But after a time out I looked up out of the stands and saw his head in a back-row of seats. A moth flew from my belly button to my right ear. Mmmmm. Boy was he cute.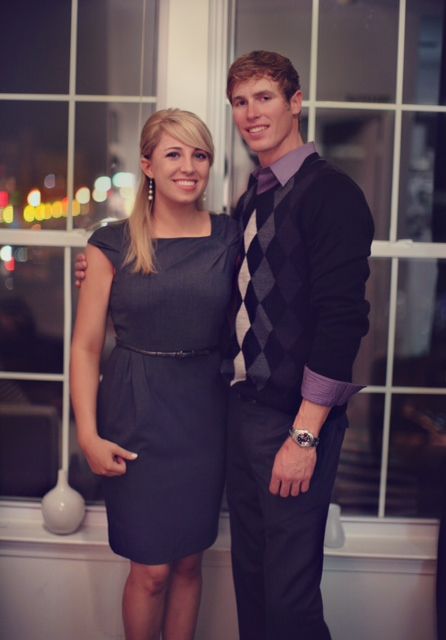 after a basketball victory for me and a travel victory for he, we celebrated with a fancy dinner and matching clothes ;)
After the game (which we won on a last-second three pointer, talk about impressive!) Dad, Lydia, my assistant coach and long-time bestie Courtney, and Caleb came up to talk. This was the first time we were introduced to The Caleb Stare. Caleb would just stare at me, even if I wasn't talking. Walking to the car: staring. While I drove home: staring. After I got changed for dinner: staring. On the metro: staring. At Ruth's Chris Steakhouse with Dad and Courtney: staring. His eyes were as large as a prize-winning cow, and his lips were as closed as a Chick-fil-a on Sunday. I think he was kind of in shock that he was really there. That this girl he had actually developed a friendship with was now in person again. And he was in her world. And underneath all the respectful, kind, agreeable, perfectly-ironed button-ups, there was a guy in great distress. All his wrong worldviews of "having to know that a girl is 'the one' before 'courting' her" were messing with him. He was having a hard time enjoying himself. He'd pray, nearly constantly, God, is she the one? I think she is... That means I can ask her out? Man, I don't know. I haven't heard you say that's she's the one. He was feeling guilty for what was completely innocent. He was very heavy with what should be very carefree and light!
becca pulled some sneaky iPhone moves during our DC dinner to capture "the caleb stare." i can't stand how funny these pictures are to me. SO good.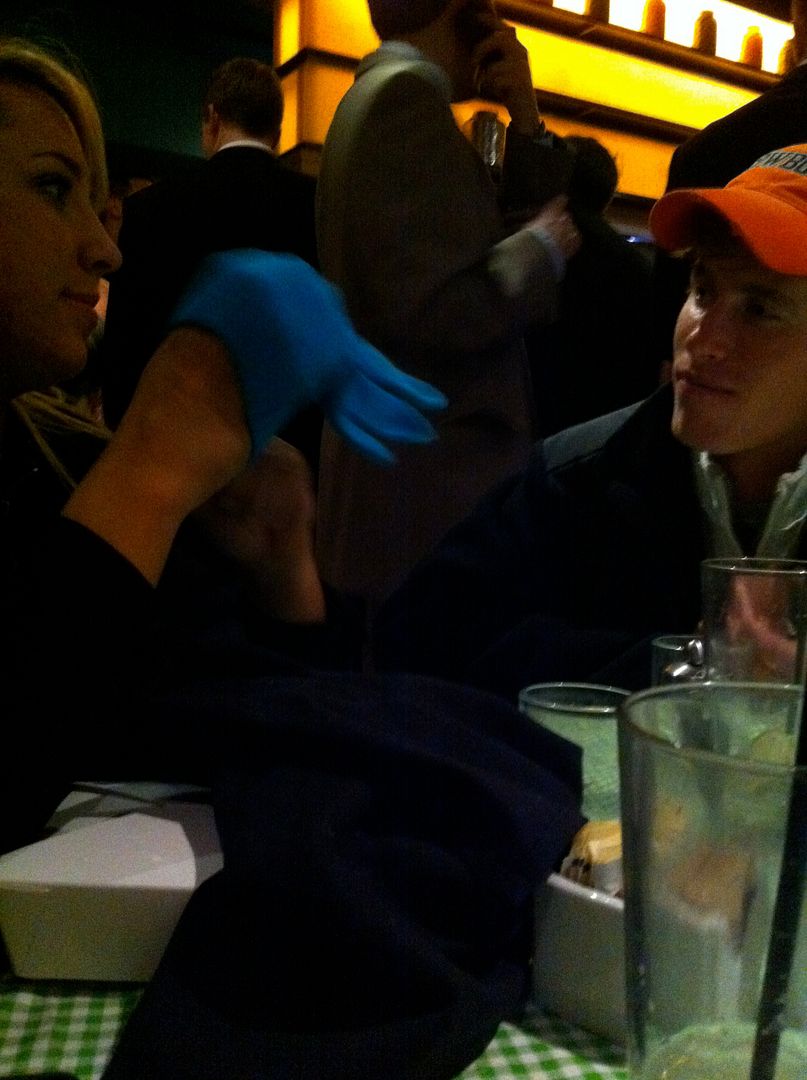 It wasn't just a matter of "dating preferences." This was the beginning of an overhaul of his entire spiritual life and way of thinking. If his view on finding your spouse was wrong, maybe everything had been wrong? No. Certainly not. But what was right and what was wrong? How do you know you are supposed to do? As he stared at me, in the middle of a meal with friends, these were the thoughts going on in his mind. I thought he just thought I was the most stunning girl he'd EVER seen and he couldn't take his eyes of me... so I didn't mind too much ;)
we had to make our oklahoman guest feel welcome in the big city! world war two memorial for the win :)
Our packed schedule kept us on our toes, especially since we attended church and two funerals while he was in town. The Sunday he was here was also the five-year-anniversary of his brother Joel passing away. Anyone who has done long-distance dating knows how happy and hard those "whirlwind weekends" can be. So much pent-up excitement and longing and expectation comes to reality and it's much more exhausting, confusing and yet irresistible than you're expecting. It's a wonderful madness. But we probably did try to do too much. Every meal was "booked" with someone, we got my iPhone fixed at the mall, we shopped a little, we spent one freezing (no, really, my bones ached) cold night in DC with Dre and Becca, and we'd stay up talking and staring for far too long.
a quick shot after church - still one of my favorite pictures of us. i remember being so happy.
We also touched toes for the first time. Yes. After another near death experience in the cold, Caleb and I came back to my apartment. I wanted to introduce him to this unheard of show I constantly quoted: The Office. So we turned on Season One, Episode One. We sat on the couch with our feet up on the coffee table. My dad was in the other room shuffling around. We each had our own separate blankets and we sat on opposite ends of the couch with the laptop in the middle of us. Michael Scott annoyed his receptionist as Caleb adjusted his covers and nestled into the couch a little bit better. And his big toe touched mine. My insides turned into a tanning bed. From my collar bone to my belt I felt orange hot and pulsing. Pam talked about water colors. I could feel my toes being washed away. I held perfectly still, almost acting as if my big toe was made of glass and if I moved it it would crack into tiny pieces and for the rest of my life I'd never have the chance to let Caleb's toe bump into mine ever again. All I could think about for the next 24 minutes plus commercials was getting his foot back near mine. He mostly just stared at me.
That night Caleb didn't leave until 3:30 am (even though we had to take him to the airport at 5:30 am). We talked, played tag, dressed-up, snacked, unfortunately didn't touch toes anymore, sang songs, talked, joked, laughed, talked and fought to stay awake for these last precious minutes together. An hour and a half of sleep was all we needed. We won't be "just friends" for long. Maybe he'll fly back in a week or two? Ask me out? I don't think he'll do it over the phone... but come on, this is obviously a good thing we've got here. This is so much fun. Time is flying! We're so comfortable around each other! Gosh darn it his toes are phenomenal! And toes are gross! We, with crunch in our eyes, salt on our tongues and stink on our morning-bodies, drove over an hour to the airport. We talked while the sun rose. We talked while traffic brought us to a halt. We talked while he stared. We talked all the way to the drop-off loop where I slipped another paper-towel note into his bag. His flight departed in 30 minutes, so he did what he does at airports: run.
And I drove away in a daze, dreaming about the next time I got to see that cowboy "friend" of mine. He, on the other hand, was very, very concerned and worried. Unbeknownst to me, the tides had begun to turn...
to be continued...