Enjoy Writing | Oh My My My | Part 6
the black clouds i'm hanging
this anchor i'm dragging
the white caps of memory
confusing and violent
josh ritter - change of time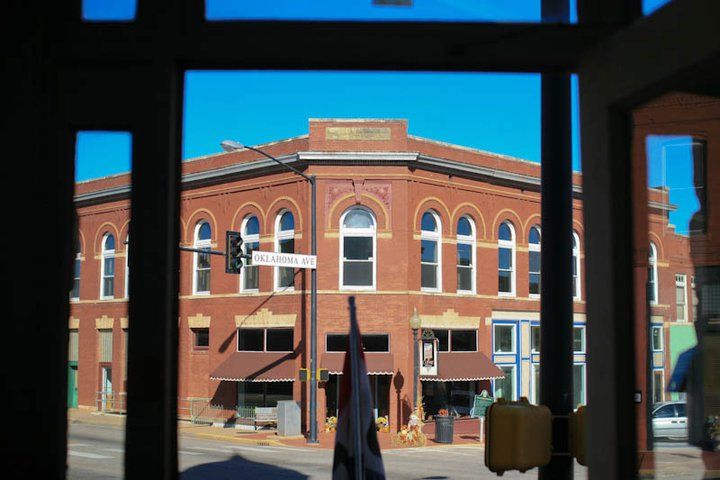 After shouting for and whistling at all the fourteen Morris family members, we finally ventured outside to begin the shoot. I had a brilliant plan to take all the pictures, and then release the oldest boys to carry on with their oh-so-important Saturday plans. After they left I'd conduct my "interview" with the rest of the children and specifically the Mr. and Mrs. I wanted to ask questions and pick their brains and hear their story in their owns words. But the twins didn't need to stick around for that. I happily leaped across the driveway out to a sunny fence and began positioning faces and checking exposure. The kids were quiet and responsive. After I was content with the number of group shots I had taken, I really wanted to spend some alone time with Terry and Cindy. I took the two of them up near the barn and instructed them like it was an engagement shoot. "Alright! The closer and cuddlier you are, the better! Feel free to touch and kiss and goof around as much as you want!" Terry kicked his foot into the ground "Man, I like that sound of THAT!" Cindy smiled with her whole face. It didn't take long to discover that Terry was infatuated with his bride. He was staring, caressing, squeezing, smooching and staring more at his girl. I was fascinated. Often I find older, long-married couples to have a comfort-level, a rhythm, a unity, a strength that newlyweds just don't have. But it's marvelous to watch a man literally leaping and wooping with joy over his wife of 24 years. "Wow. Not many girls find a guy like that," I thought to myself. I was taken aback. For the next thirty minutes they twirled, laughed, sat on straw and smooched.
When the shoot was finished the dew had melted off the pick-up trucks and wire fences. The littlest children had play-dates with grasshoppers and chickens. The mister and missus with whichever children wanted to participate planned on letting me interview them. That sounds intense. Planned on letting me talk with them. Ask them questions. I wanted to hear from the parents about their story. I wanted to hear from their children about their marriage. The oldest boys were released to leave at this point. They had houses waiting to be built. "Thank you so much for taking pictures! We're going to do a little interview thing now, so you boys are welcome to leave. I know you have some work to do," I prompted as we funneled inside. Caleb interjected "Oh! No, it's fine. We don't have to leave now. We have plenty of time." It was the second thing he'd ever said to me.
The whole family gathered around for a time of sharing and speaking. I studied Mr. Morris' body language. His hand was on his wife's knee. His hand around her back. He scooted as close as he could to her. His body was turned her direction. When she perhaps was a little weepy, his thumb rubbed her knuckles. It was a beautiful time I will never forget. Once the "interview" was done, and in keeping with all the midwest hospitality I'd heard about, there was an offer to stay for hamburgers. That didn't work with the schedule, I apologized. But before I headed to POPS and a day with Dre and Becca, I flew through the wind and red dirt roads on a 4-wheeler. I almost killed a Morris daughter who rode with me. No one told me the brakes on the vehicle were BROKEN. We truly missed a dangerous crash by a hair. But gracious, it was fun. My smile was huge. My heart was full. I felt strangely close to this whole family. After a few hours I really, really loved them. But I had things to do, and it was time to leave. After a few jokes about the phrase "y'all" and firm hugs, I left the Morris Farm. The entire afternoon and evening was spent with my favorite funny little couple, eating burgers and wandering downtown Guthrie.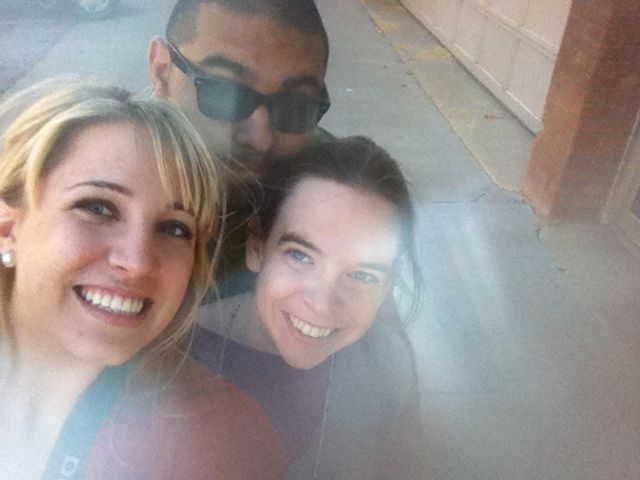 See my snazzy thin, wide bangs?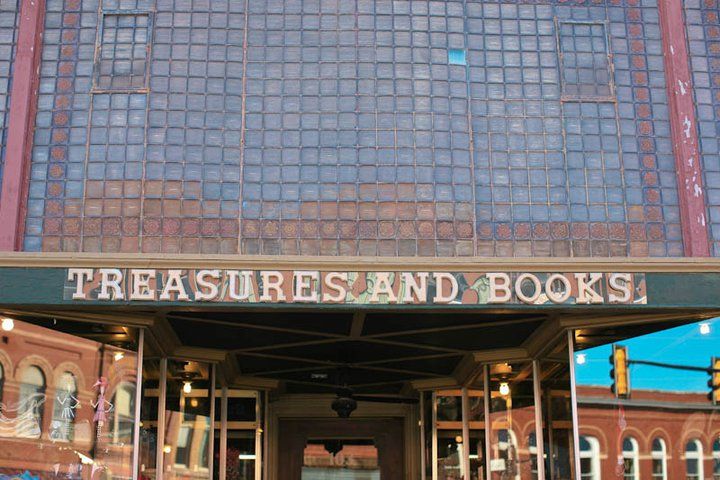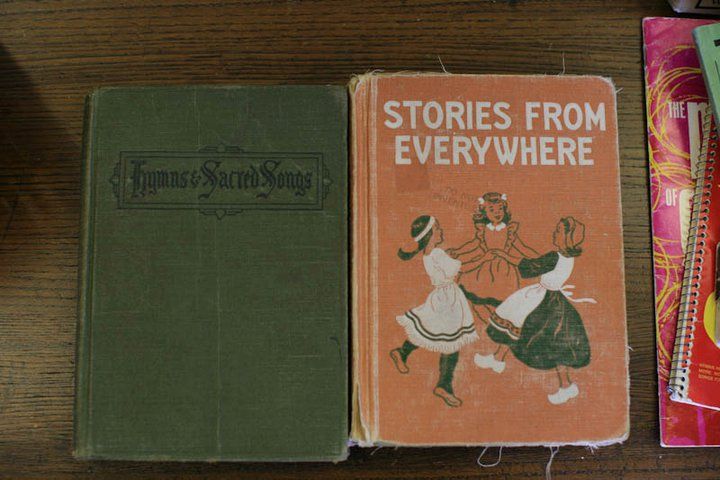 Within 24 hours I was back in Maryland, but after my trip to Oklahoma I certainly found myself with sweet new friends - even Facebook said so. Mrs. Morris and I kept in touch frequently (she is quite the texter!). Mrs Morris had actually even invited me over for volleyball after church the day I left. My flight prohibited that get-together from happening. She insisted that I come back again. I honestly wanted to. Happy, large families are rare to come by, but they feel like home to me.
As the weeks went on I was asked over and over to come visit. I loved that the Morris' constantly had friends over. Just a fast look at their blog showed friends (and strangers-turned-friends) at their house nearly weekly. I didn't find it odd or suspicious; that's just how these people are. The final hurrah-came when Mrs. Morris invited me to her annual Christmas party (as well as other friends in the area I knew). This single, adventurous, scheming, spontaneous girl was convinced. After all, many near-strangers (also known as: blog friends!) had invited me all over the country and I often went. California, New York, Atlanta, Vancouver, Las Vegas - it was common for me to shell out the dollars and take whirlwind trips to visit people I barely knew. Accepting this invitation was perfectly normal for me, but looking back it can be hard to believe that I didn't suspect anything. Looking back, I'll fully admit: this trip was perhaps quite bizarre, ridiculous and schemed. At the time? It only seemed natural.
Behind the scenes, there was a shy, smitten buckaroo. Though we barely spoke five sentences to each other, meeting me during that photoshoot stirred something in Caleb. Because, in fact, I was right. The day I showed up on his property, he was interested in another girl. Somehow that short morning was enough for him to want the chance to see me again. Little did I know that those five sentences were much, much more than he usually said to a girl he first met, let alone a girl he "felt" something with. Whether this was by accident or by design, the strict courtship methods used in his homeschool program looked down on guys walking up to a cute girl and talking to her. Caleb loves to joke (now) about the years of making eye-contact with girls for days on end, and never speaking a word to them, but thinking he "liked" the girl. Poor boy. He didn't know what to do. Or what to say. He'd like my Facebook statuses occasionally. He'd stalk my page daily. But he had no idea what else to do. Hence my invitation to the Christmas party. Mama Morris was going to do everything in her power to get me back to that farm!
This trip was a few weeks before Christmas. Friday afternoon I arrived at the same Baltimore airport I had flown out from in October. I headed to security. The officer who reviewed my ID and boarding pass signed off his name to prove that he had indeed reviewed my information. His last name was "Morris." Ha! Beneath my name, "Kristen Snyder," there was now scribbled in "Morris." Eerie? Or just kind of funny. Regardless, again I flew to flat nothing-ness and the land of cows.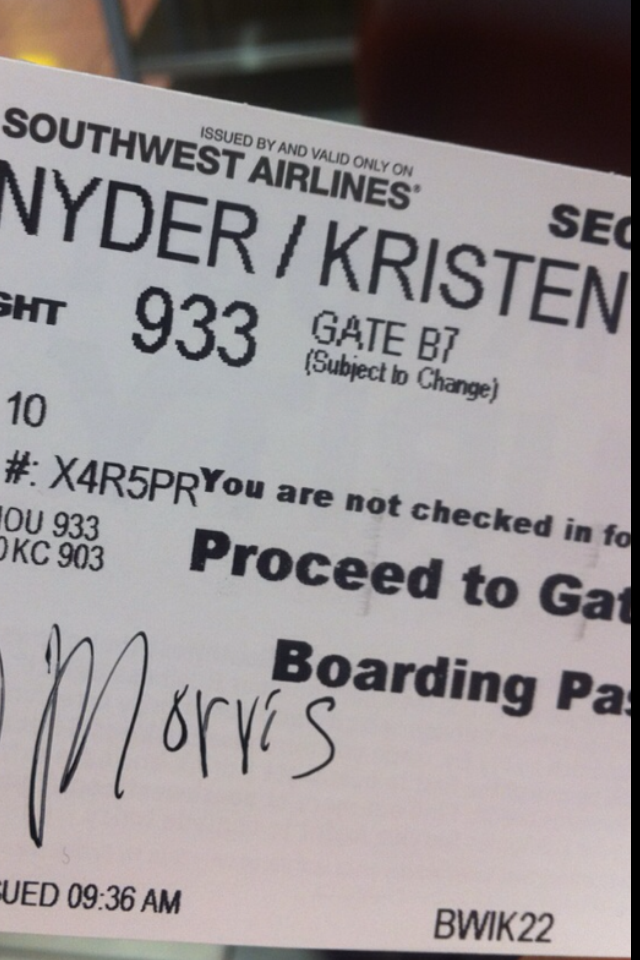 I landed in the late afternoon with just enough time to get to the Morris' and get ready for the party. The boys and men were all still away at work, and the women had the house looking like Miracle on 34th Street. Desserts were baking, music was singing and the sun was setting. Eventually the men arrived. I greeted everyone, but I don't remember seeing or even saying anything to Caleb. He says he couldn't wait to see me, but when he did he didn't know what to say. A gaggle of girls crowded into a small bedroom lined with bunkbeds. We arranged our hairs and painted our faces and smoothed the cloth on our bodies. Caleb was a few doors down picking out his horrid outfit for the evening. A pair of light wash jeans with a black Under Armour cropped turtleneck tucked into his jeans with a belt. He wanted to show off his muscles.
Before long guests were at the door and the party began. Hello's, hugs, unveiling of treats, prayers and conversation followed. We played holiday games, sang holiday songs and partook in holiday cheer. It was a night where time flew and also stood still. I forgot there was a whole world outside the decorated walls. I fought in giggles during inappropriate times - I was so amused by it all. I met some lovely, disgustingly sweet, and adorably accented people. I won the free-for-all-Spoons-game at the end of the night by tackling one of the guys and grabbing the spoon out of his hands. As Friday evening turned into Saturday morning I was sent outside to go "snipe hunting." I knew it was a prank, but I couldn't resist. That night the nickname "Snipe" was coined. The Morris' love their nicknames. I had received a badge of honor. I thought one of the Morris' friends was cute. When my dad asked how the trip was going I told him about the friend. "I think he likes somebody else. All the cute, good guys do." Aside from thinking his shirt was just ridiculous, I don't remember much of Caleb at all that night. Apparently we talked for a little bit, but I couldn't tell you what we said if it would save my grandmother's life. Caleb felt sparks.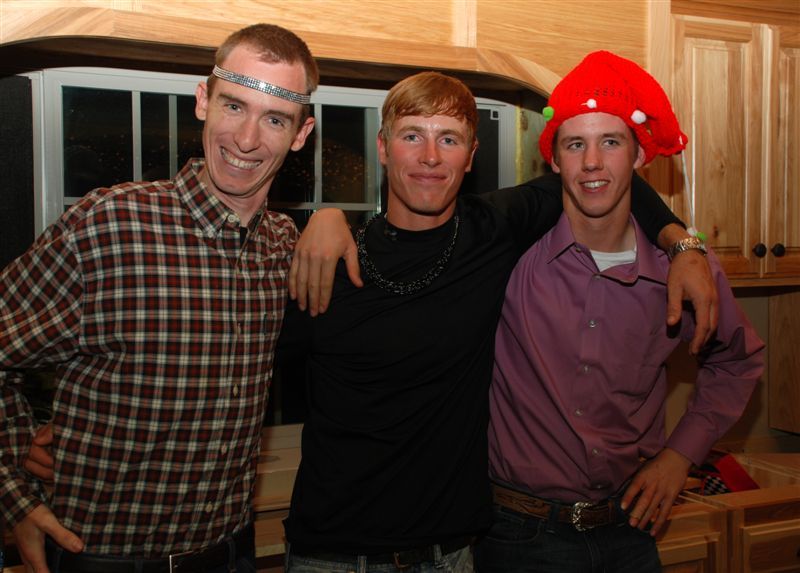 Some of the dudes with their White Elephant gifts. Caleb has a lovely neck for a jewelry! ;)
The next morning is a bit of a blur. By the afternoon we were out in the fields dirt-biking. Let me elaborate: we were in the COW fields dirt-biking. Where there were cows. In the field. With us. Were the cows. There were probably ten of us kids out there and I was the first to ride a bike. I strapped my helmet on and sailed away in clueless but prideful glory. My heart was racing. I should have asked more questions. I'm going to die in a field. Cows are going to stomp on me. Everyone is going to laugh when I crash. I want to go faster. I know I'm breaking this bike. Turning is scary. I was as stiff as startled baby while I rode. Caleb thought it was adorable.
When I finished my ride (accident free) Caleb wanted to get on and impress me. I wanted to go inside and check my phone. Signal wasn't great out there, but maybe a few texts slipped in. I don't remember watching Caleb ride, but I do remember talking to his brothers while he was gone. They were much more talkative and charming than he was. All of a sudden everyone was screaming and running while mud flew and an engine roared! Caleb nearly smashed into us all. It would have been hilarious if he'd been on roller skates. But it made my heart tremble. I am going to die in a field. Caleb passed off the bike to another brother and tried to make small-talk with me. He was getting a little desperate. As we flitted through words and comments an alarming reality approached.
The cows were all done with the field. The wanted to kill us dirt-bike-riding-disruptive-hooligans! They were charging. All five or size or 12,000 of them. Cows move quicker than you'd think. I started yelling for everyone to take shelter behind the face. The dust behind the cows was building. Visions of the stampede in The Lion King galloped through my brain and beating heart. No one was listening to me. I ran like a banshee past the barn and clumsily crawled over the tall metal fence. Most of the Morris' just stared back at me. One of the sweet girls tried to assure me that it was alright. I needn't worry. They won't hurt us. That's probably what everyone says before they're speared to death by cattle. One of the brothers, Tig, laughed and laughed and laughed. Lije jumped in. "If you want to run away from a cow, you have to run in tight circles! Really, really, really tight circles." I practiced behind the fence. I was spinning like Tara Lipinski's double axle. "No, Snipe! You're not moving! You still have to run! Just in circles!" They laughed and I decided to take a little break from the cows and machines inside. It was glorious. And they all thought this worried "city girl" was a hoot. Caleb thought I was hot.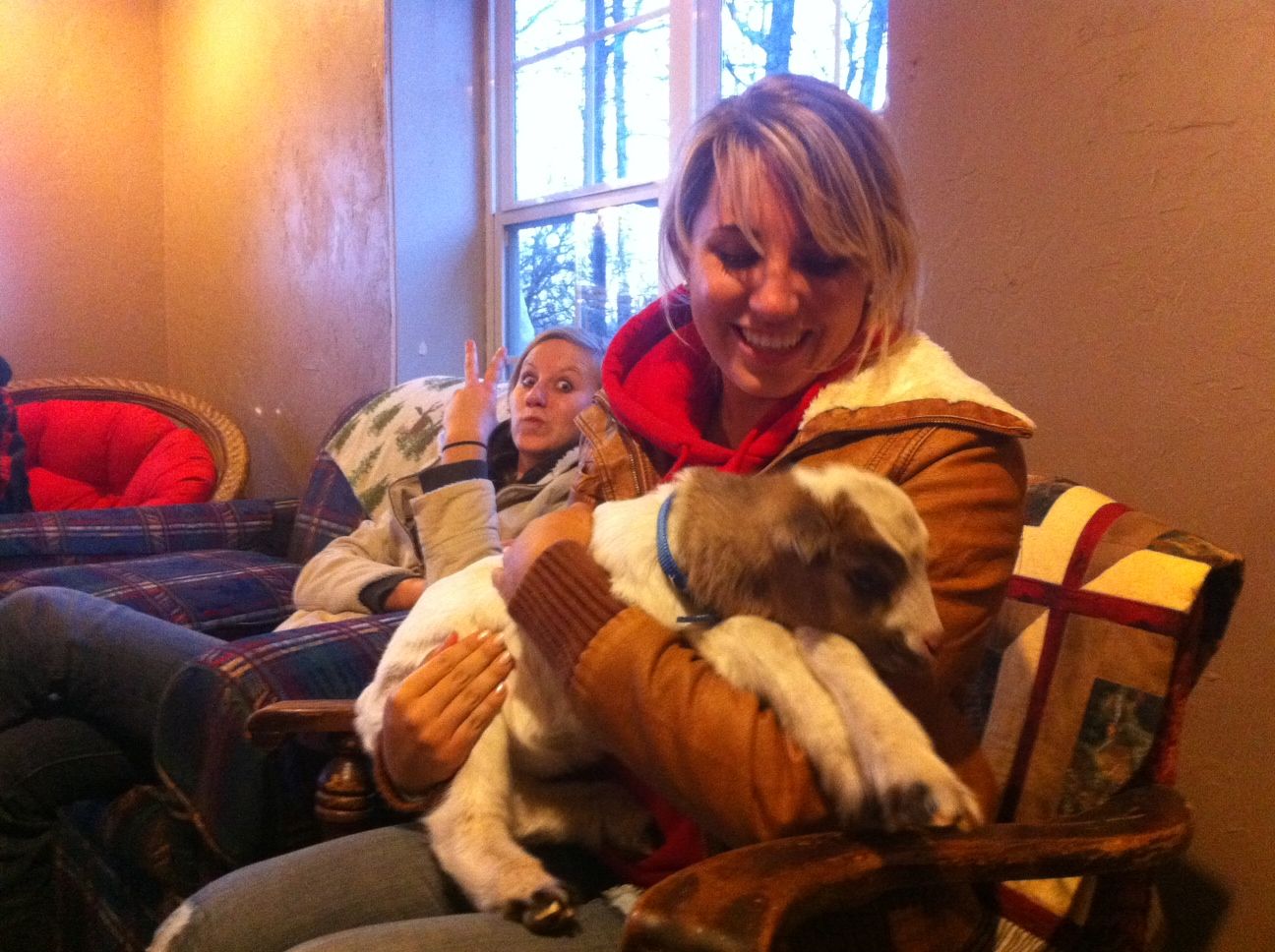 The rest of the weekend was filled with meeting more friends, going to the movies with the whole gang, late night McDonald's trips, volleyball, seeing the land and beginnings of homes the twins were building, holding goats on the couch, four-wheeling through wild hog territory, touring a deserted Oklahoma City in the dead of night, Sunday School, Pizza Hut, and ice-skating.
All the while Caleb was trying desperately to get to know me better. Why is it that men just adore girls who have no interest in them? It's quite silly. The more I kept busy with other people and activities, the harder he tried to be around. But when he did have me for a moment (say, next to me during a car ride) he couldn't think of one blessed question to ask. I'd tease him and carry right along, thinking nothing of it. I teased everyone. I loved everyone. It was one of the best weekends of my life.
The night before I left (Sunday night) it finally dawned on me. All weekend I had missed, chosen to ignore, or talked myself out of believing that Caleb had a little thing for me. But as a caravan of three trucks with nearly a dozen boisterous young adults pulled into a closed McDonalds, everything changed. We had planned to get one last ice cream for the weekend, but since the Golden Arches had shut down for the night, we decided to go buy some BlueBell and eat back on the farm. Caleb and his friend were riding in a old-yet-perfect manual-shift pick-up truck. I was in a different truck. At McDonalds Caleb got out of the stick-shift truck and headed towards mine. In a split-second I jumped out of my truck and ran into the stick-shift truck with Caleb's friend. The friend and I sat there, waiting for everyone else to load up. I promised the friend I could drive very very carefully and well. He believed me. I said something funny, and the friend laughed. Then all of a sudden the friend was gone, and Caleb was in the passenger seat beside me. Caleb looked at me with huge, shocked, silent eyes and jumped out of the truck. I was alone in the driver side of the bench seat. The friend pushed Caleb back into the truck. Caleb popped up a second time and I heard multiple "No! No! Nooo!"s. The friend fought back. "Dude, GET in the TRUCK." "I can't, stop it, I can't," Caleb waged. "Yes you can! Get. In. The. Truck!" in a very Noah-telling-Allie-to-swing-on-the-rope-into-the-swimming-hole voice. Caleb wasn't going down easy. He pushed the friend (we'll call this nameless friend "Tyler") into the car next to me and sheepishly sliding in afterwards. The three of us sat in a split-second of squished, stunned silence. And then the rest of the trucks started pulling out, so I got into driving-mode. Keep the brake down. Turn the key. Put it in reverse. Release clutch. Gah. Tyler's shoulders were overlapping mine. His knees were touching the steering wheel.
"Hey Snipe! I need to get some gas in this ol' thing. Pull in here!" Tyler was making his move, he had Caleb's back. As I pulled into the gas station, Tyler got his wallet out. When I stopped, he made Caleb get out of the car to let himself out. While Tyler pumped gas, Caleb got back in with me. We sat in silence. I knew what was happening. I knew Tyler knew. I knew everybody knew. I knew Caleb knew I knew. How could I not? He followed me all weekend. He somehow managed to hold my hand every time we did chains on the ice-skating rink. He was never more than one seat away. Of course, Kristen. He crashed his dirt bike in front of you! Tyler inched back into the truck. A much slimmer, perfect-postured, blonde boy was next to me now. I was confused on how this happened. I wear jeans, doesn't he know?! I watch America's Next Top Model! Because I have cable TV! I believe in the gift of tongues today - and I argued with his father about it over dinner! My bathroom is just a mess and I go spray-tanning and I've gone on a handful of dates with other guys! And I hate live animals! Tyler - loud, funny, obvious Tyler - broke my stream of thoughts. "Guys! You have to listen to this song! I get chills every time I hear it. No joke, man. It's good stuff. Good stuff."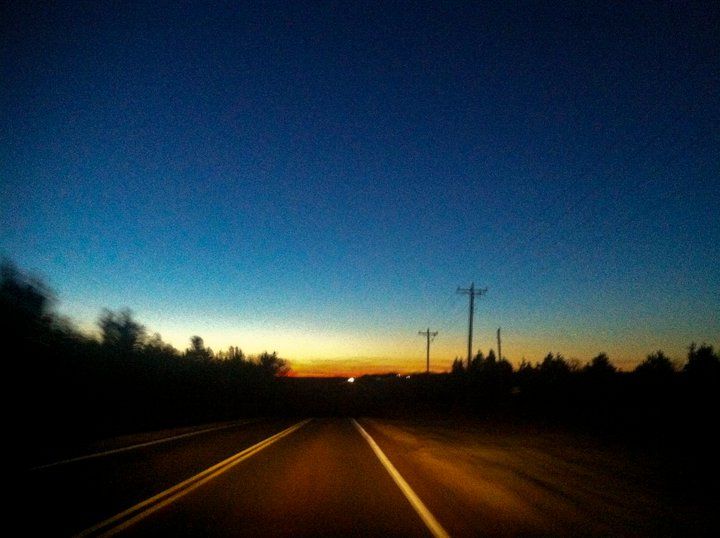 The song started to play. It was a long live version, so it played for the remainder of the drive. We all sat in the dark night, maneuvering through dirt roads. "Bending beneath the weight of His wind and mercy." "I didn't come here for this." "We are His portion and He is our prize!" "He thinks I'm a carnival show. This is nothing. He thinks I'm literally like a merry-go-round." "If grace is an ocean we're all sinking." "I'm not what he's looking for." "Whoa, how He loves us." "What is he doing? There is no way this is serious. No way." "Yeah, He loves us! Oh! How He loves us!" "Mmm. Yes, He loves us." Kim Walker started speaking on the track: "Tonight, God wants you to feel His love, His amazing love. Without it these are just songs, these are just words." Tears singed my lids. "Oh, how He loves us. Oh, how He loves. Yeah, He loves us!" I breathed heavy and hung on every word. I think I even sang along. Actually, I know I did. And I didn't care or even realize I wasn't in the car alone. I can't really explain it other than to say that I knew God was near to me. I all of a sudden felt very overwhelmed with fears and impending failure. "God, please help him not be serious. He's not serious. I know he's not serious. He thinks I'm a carnival show! Like a sparkly, noisy attraction for children. Not anything serious." We made the turn onto their gravel driveway and I was thrilled. I determined to shut off my mind and dream this little predicament away. The kids and friends rallied inside, hollering about "Cookies and cream? Or chocolate?" I shuttle myself into the bedroom and texted my dad. I stayed in bed the rest of the night. I'd be leaving at 6:30 am in the morning. I don't have to see Caleb again. I didn't say good-night or good-bye or even eat any Bluebell Ice Cream. I vanished from the promising evening, full of worry.
In Oklahoma City for the afternoon - before I realized Caleb liked me ;)
When I woke up the next morning and headed home to Maryland I drearily told my parents and friends the news. "I think Caleb likes me." I was frustrated with myself. I really didn't want to hurt him - I didn't want to hurt anyone! Like I wrote before, my post-high-school years were almost strangely filled with relational hurt. Me being hurt by people, and me hurting other people. I was burnt out. And I didn't want to even think about "the situation," or even the possibility of there being hurt because of me. I'm the sort of girl that cries about turning guys down - and I don't cry about anything. My stomach turns when I think about relationships being ruined. I hate when relationships are ruined. My heart aches. I believe God "makes all things new." That He "redeems and He restores." But for the most part, the big friendship fall-outs I've witnessed or been a part of have never been "like the used to be." That's probably okay, but it's still hard. And my head, heart and smile had been so free, so full, so genuinely happy all weekend long, without a care in the world. I was so happy. And now I was afraid it was going to "all be ruined."
My dad told me that Caleb would get in touch with me within two days. I lied to myself and said he'd never e-mail. It was nothing. Within two hours I had a Facebook message.
(to be continued...)