Enjoy Pinterest | Engagement Rings
"she'd had no idea,
started to cry,
she said in a good way

someday somebody's gonna ask you
a question that you should say yes to"
the 97's
Since I'm still knocked off my rocker and have not nearly kept up my blogging schedule for the week, I'm going to jump back into the daily Enjoy Project schedule while I simultaneously crow about my immaculate ring and the boy who gave it to me.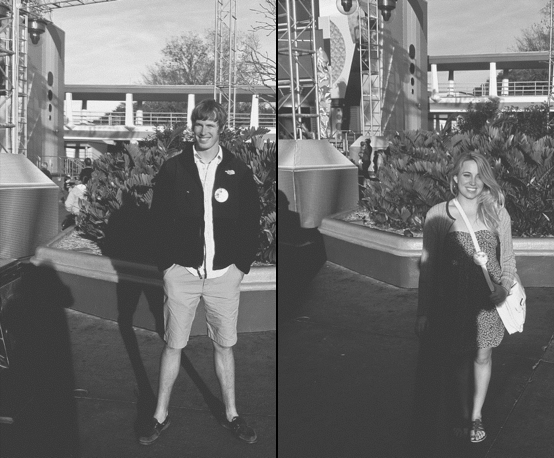 (Aw! Look! That's us! Little did I know what was ahead for me. And poor baby, I had just been ragging him about deleting a text from his brother. Why? What did he say! Why did you delete it? I'm just so much work.)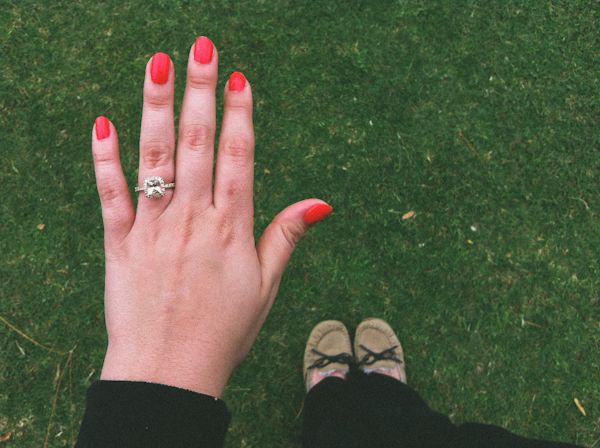 This 2.1 carat rose-gold peach-sapphire ring, lined with another full carat of stones (3.1 carats total!) is a completely custom ring. My will-be-husband loves to remind of that You are the ONLY woman in the ENTIRE world with this ring. The ONLY one. And I love being reminded of it :D It may or may not surprise you just why I love that sentiment so much: not because the ring is incredible and sparkly and more than I ever dreamed of, but because My Man took such care and effort and time to make this ring come to life.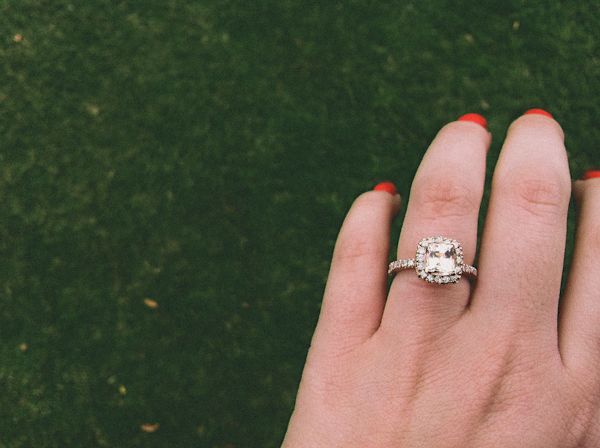 Like I mentioned before, the
jeweler
who finally made all of Caleb's visions come to life told him "In 52 years of business I have never seen a man who cared so much about the ring, or was so particular about it!" After 5 months of research, failed attempts, disappointment, nearly giving up on "this" ring and just buying another, late nights on Etsy, sketchy phone calls with loose stone sellers, a limited budget and patience galore, Caleb nailed it. This ring literally looks like a $10,000 ring. It looks like an $1,000,000 ring to me, actually ;) But we don't got dat kinda dough! Nothing even remotely close to it ;)
When I look at this ring I see beauty, precision, excellence, diligence, happiness, perseverance, ingenuity, patience, overwhelming love, the excitement in his eyes when he presented to me and all the little Caleb-stomps of frustration I'm sure went into this ;) I think of him in every way.
The ring is also fun because the stone changes color in the light! From up top it looks white, inside it looks yellow-ish, outside it has a very pink tone, and I'm still catching new hues every day! Now that is just plain fun, ladies and gentlemen.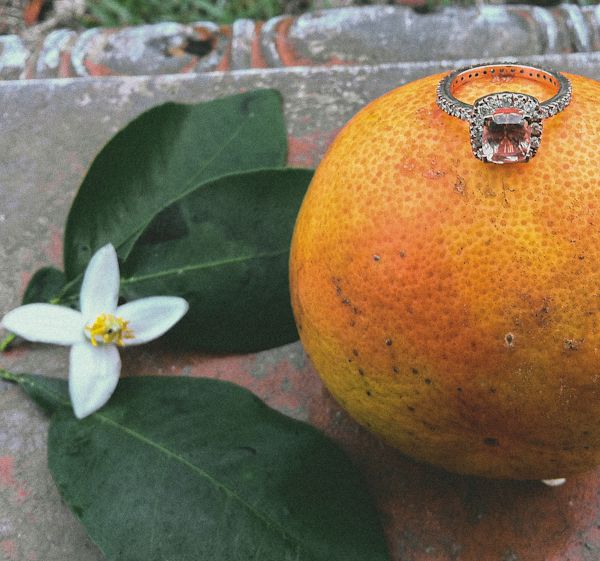 Love that calloused, sand-paper hand holding my feminine ring ;)
I just couldn't be more impressed with him, honored by him, or happy to have him. He's taken me, entire. I'm just taken by him.
It makes me smile thinking about my complete explosion of emotion when he proposed. Here we are, he a little stiff and apparently so nervous, and I, perfectly content and cheeks hurting from smiling. I love to be with him, especially all day long.
Aaaaand after he proposed. Ha. As he would say "We look a little rough." Make-less eyes, red runny nose, cold cheeks, bright lips, and that somethin'somethin' ring. I tell you what, he just does something to me ;) And I love it.
PINTHURSDAY RULES:
1] I created a group board called "Enjoy Project"... follow it!
2] Every Thursday I will blog about a particular topic (today, for example, is engagement rings.)
3] Leave a comment with your Pinterest name and I will add you as a contributor to the group board. Also leave a link to your favorite/rad find for the theme.
4] Once you are added to the group, you can pin your find right to the page. If you would like to contribute to the group, but do NOT want to be an official contributor, leave your Pinterest name and link and I'll post your find myself, with credit for the find to you.
5] We'll collect ideas together! Sitting all alone on your computer, scrolling through pages and pages, waiting for pins to fetch, is very isolated ;) This way we can interact together! And get to know one another.
6] Once a pin is in the group you can (obviously) re-pin to a different board if you'd like more organization for yourself.
7] Be kind, have fun and enjoy one another, please and thank yaaaa.
8] When pinning on this board, use the #enjoyproject hashtag! It will make it ever easier to find when we have more and more posts.
9] My goal is to have the board available to the current topic for one week. So you have from Thursday-Wednesday to post engagement rings! Then Thursday-Wednesday to post _______. (I'm not giving away next weeks topic just yet ;) haha).
10] Enjoy yourself. And the ideas. And the other people.
Alright! You ready? Go pin!