Enjoy Project | Nick + Whitney | The Oaks Wedding
i was thirsty so i drank,
and there was something 'bout the way
Training for a marathon. Building a new house. Commuting three hours every day. Planning a wedding. Traveling. Running a family business. These topics are childs' play for Nick and Whitney.
She's really just "on it." She's there for you. She's got it taken care of. She has an idea? Boom. Done. Ordered. Printed. Next idea? Let's do it. Boom. Spread sheet. Done. She makes things happen, and she works hard. I really wish I had more of "that" in me. Sometimes dreamers can really be the most lazy people... we need more people of action in this world! And Whitney is most certainly a dreamer in action.
I can't tell you how many e-mails I got from her with galleries for wedding inspiration, floral ideas, color schemes and general information. She wanted me to be up to date, involved and really a part of her day. I loved those e-mails.
Her heart and soul were in this event. Now, some may say "If you focus too much on your wedding, you aren't making your marriage the priority!" Trust me, I understand the sentiment, I get what that phrase is referring to. But I must say, oftentimes a persons extreme focus on the wedding is a reflection of their gigantic hearts. Their hearts for their families, friends, parents and spouse. Whitney wanted this day to be perfect for everyone. She wanted everyone (who drove ALL the way across the bay bridge ;) haha) to be showered upon with memories and celebration. She was no casual "eh, I don't care, whatever" participant in this day. She was engaged in every element, and when wedding day came around, it was so personal, emotional and meaningful. It's the difference between a Stouffer's frozen lasagna and a homemade, hand-made pasta, slow-cooked sauce, fresh baked lasagna. The person who puts hours of time into the lasagna doesn't "care more about the meal than the family." No, no... it's BECAUSE she cares for the family she desires to give them the best meal! That is how Whitney is.
Love. her. ring.
After their happy, normal (aka: not awkward!) and relaxing first look, we tooook ooooour luuuxurious time doing portraits!
We had a lot of grounds to cover at The Oaks... especially since Whitney knew that place like the back of her hand!
This looks so New England-y to me! <3
After all the group pictures were finished, the photog crew and the almost-weds drove down the road to a sweet little bay town. I love the rush of taking photos in a busy place, seeing everyone stare at us as we walk down the road, marching through crowds making no eye contact, being all "Ye-ah. YE-ah. What?" It's very glamorous.
(It's also a fun challenge to make it appear like there were not many people around. This streets were not empty, my friends!)
Now we arrive at the wedding climax, the great build-up, the part where the tension peaks. Our vehicle full of media crew and talk-of-the-town couple pulled back onto The Oaks property about 20 minutes before the ceremony was scheduled to start. While we were gone the storm radar took a turn for the worst, and the grassy, waterfront wedding under the giant oak trees seemed to be a precarious option. While we were out, however, none of us answered our phones (or felt them ringing for that matter.) With the bride and groom gone and rain approaching, they wedding team made a game-time decision to move everything under the covered dock.
It's not that this option wasn't a perfectly wonderful location, or that Whitney wouldn't have even made that decision herself, it was just a little confusing to drive up and see half the chairs in the grassy location, the other half on the dock, speakers being moved, floral arrangements being transported across the lawn. What on EARTH was going on?!
That sliver of just a few minutes gave me a front seat view of Whitney and Nick's relationship. I haven't described Nick much to you thus far. All that I've said about Whitney is true - and I could say much more! I truly LOVE her, and I LOVED shooting HER wedding because I SO love HER. But I have to hand it to him, Nick is one quality man. In all this commotion, and in the mounting stress, there was nothing I could say to relieve Whitney, nothing her sister or mother or girlfriends or wedding coordinator could do. She wasn't going ballistic or anything, in fact, she was remarkably calm! But you could tell her sweet, planners heart was racing a bit. And Nick was the only one who could help. "I understand how you're feeling. I've talked to _______, _______ and ________. The change is being made. We will be getting married on the dock. It will be beautiful and I personally will make sure it is exactly like we talked about for the Plan B." Whitney visibly calmed. "Do not worry, Whit. I've got this under control. You finish getting touched up and I'll see you in just a few minutes." And like *that* she had not a care in the world. And that right there, ladies and gentlemen, is a man.
Patient, calm, gentle and also bold, "fix-it" and decisive. Manly!
I really am glad that the weather looked like it was going to be bad, because I loved how personal and unique the dock ceremony was. Though it never rained, I think it was just a little special touch to the wedding to have it over the water ;)
One mis-step and I would have been Kristen Phelps, the swimming photographer!
I love all the things children do to get through a ceremony ;)
After promises, pledges, surprises, and I-do's, Nick took just another situation on this wedding day into his own hands! Ow ow!
Yayayayayyayay!
The reception had Whitney-love glazed all over it. From her perfect flowers and darling cake...
... to the nautical feeling shutters...
... to an album about Nick and Whitney's home that built together, or "The Home That Built Them"...
Such a feast. Such. A. Feast.
Some of the best I've ever come across. I love you four!
The night the best I've ever seen yet. With the guests all lined up on the gorgeous deck, and newlyweds down on the grass, fireworks lit up the night, reflecting on the glassy water. It was perfect.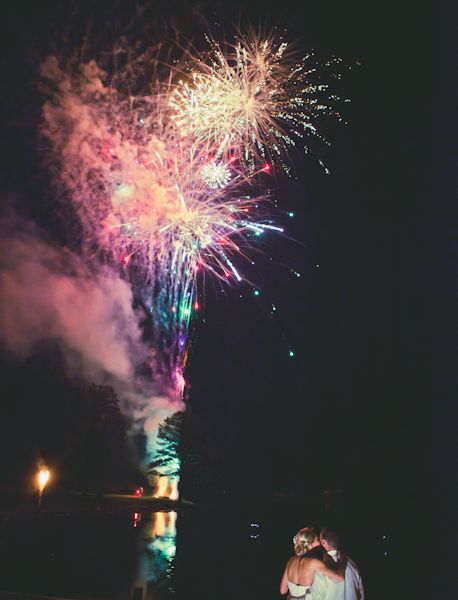 Thank you for the magic, the love, the friendship and the fun. I will never, ever forget this wedding! Love you BOTH.