Enjoy Project | Making Tortilla Soup Unmatched
"i'm not a glutton,
i'm an explorer of food."
erma bombeck
Last week
was terrible on "Making Things Tuesday". I am here to redeem myself, with my most prized talent: tortilla soup making. Other than Making Messes and Chewing, I believe Tortilla Soup Making to be my finest skill. Desperate times call for desperate measures... and things were desperate
over in Craft Land
. So today we are making things in the kitchen. I'll teach you all my secrets. I have a stockpile of secrets. These secrets have a lot to do with getting used to the smoke when burning food and how to lick the spoon without the people around noticing. Let's begin.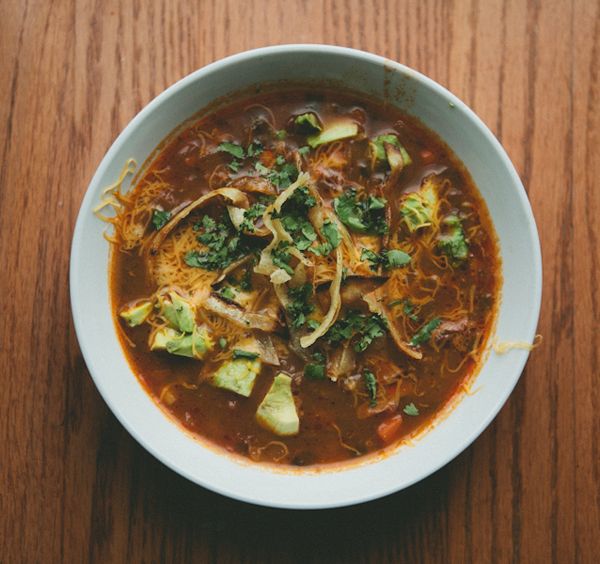 Before you cook anything you need to lay out all the ingredients on the floor, in cute little bowls, and photograph them (withOUT your feet getting in the picture.) That is the path to success ;) Just playing. Though I rarely implement this idea, it actually helps greatly to prep all the food and measure it out before you start to cook. That idea would really only work if you had a little extra time. Also, if you wanted to do this soup recipe the REALLY easy way, with hardly any work, you could throw all this into a pot at once and let it cook altogether. It doesn't have quite the same effect as the elbow-grease version, but it's still real good ;)
And now we are primed and prepped and ready to put the pedal to the metal! The broth is THE most important part of soup. So make it count. Set your chicken (with bones!) in the pot and fill pot with water until it covers the poultry by an inch or so. (I used three large pieces of chicken and two tiny wings. It doesn't really matter... the more chicken you use, the more you'll have in the soup! The less... the less you'll have! haha) Add 1/2 cup or so of chopped celery, and other 1/2 cup or so of chopped onion and a final 1/2 cup or so of chopped carrots. Feel free to use more!
Throw in some celery leaves and cilantro stalks and you are well on your way to being Flava Flave. Take pot off your living room floor and put on stove on HIGH and bring to boil. Keep child away from stove. Let her finish eating her stolen corn tortillas.
While broth is heating, getcho're fresh veggies out and chop up half a red onion, a whole tomato and four or so stalks of green onion.
Put vegetables in a yellow cast iron skillet ("frying pan" is for beginners ;) Okay, okay, I'm just playing again.)
Drizzle veggies with olive oil and add 2 TSP of black pepper, 1 TSP Seasoned Salt and 1 TSP white salt. (Seasoned Salt is capitalized because it is very important and official.) Turn stove on to medium-high and let the vegetables sizzle and crackle and moan. Keep stirring so veggies cook evenly.
Yum! I love when the juices start to bubble. I feel like Ratatouille.
After 3-5 minutes (or sooOooo) add as much corn as you'd like. I just dumped what was left in the bag I had in the freezer (an official measurement, I know.)
Mix the corn in and see if you can do a little salsa jig while you stir. "Ay ay aaaaay!"
Alrighty. After 15-20 minutes of heating, the chicken should be mostly if not all cooked in the broth. Remove chicken and let cool for a few minutes. Take out fork and knife to remove chicken from bone and skin. Then use your hands to remove chicken from bone and skin. (I really tried to use the knife... But I have terrible hand-eye coordination. And that's also why I couldn't make lay-ups on my Varsity basketball team.) Fair warning: this is the worst part. I hate taking the meat off the bones. HAAATE IIIITT. I always come close to making the soup a vegetable soup. My heart starts to beat a little faster. "Why am I anxious? Calm down. It's fine. Stop it." I always promise myself I'm going to use boneless skinless breasts next time (which you can do by the way: just cook the chicken in store bought chicken broth, not water). But I want the taaaste of reaaaal brooooth, my mouth counters. My belly chimes in too, in total agreement. So I press on.
Looking at pictures like this help. "Pain is weakness leaving the body! No pain, no gain! I suffer for my soup!" (props to you if you know where that last quote comes from...) "Keep your eye on the prize!"
And somehow I manage to carry on. So! Now! Take your chunks of chicken and plop them back in the broth. Dump the contents of the skillet into the soup - oil, juices, veggies, everything.
Add all the seasonings to the soup as well (we already use the salt and pepper to cook the vegetables, though. So don't add more of that just yet.) 1 TBS CUMIN, 1/2 TBS Garlic Powder, Chili Powder and Cayenne Pepper. (CUMIN is in all-caps because it is the most important, the others are very important too. Just not MOST important.)
Mmmmm. I like culurrr. (And dang moccasin crept into the corner of this picture.)
Take the pot back to the stove and collect your liquids from the ground. (That sentence felt weird leaving my fingers, homeboy. Oh no! What is happening to me?! I feel so shady.)
Crush the whole tomatoes in your chicken-y fingers and drop into pot. Also dump about half of the juice from the can into the pot. Then go ahead and pour 1/2 a cup of white drinking wine (alcohol burns out when cooked... don't worry. You won't get tipsy.) Glug a 32 oz package of chicken broth into the pot as well. Glug glug glug. And finally: 3/4 a cup of root beer. I know. I know. You think I'm pranking you. I'm not. Trust me. It gives a smoky, sweet, hearty flavor you just can't beat. Let this all simmer for at LEAST an hour. But try to let it simmer longer then that. I like to give it six hours if I can. There is no shame in making this the one day and then setting the pot in the fridge over night either! You just can't rush these things. You know what happened when you rushed your first dating relationship. It didn't end too good, huh? Give the ingredients time. No pressure. No rush. Good ol' fashioned face time.
Whenever you are ready to serve the soup, throw some oil and some cut corn tortillas back on the skillet and do yourself a favor. Fry up some chip strips, let them drip on a paper towel, show them your love by salting them just a tad and dare yourself to only eat 10 before dinner time.
This right here is one of my Top Three Foods of All Time. I'd eat these every day if I still fit into my highschool jeans.
After all the hard work of simmering and connecting, the soup will have MUCH less broth than it began with. Don't be alarmed. And don't worry about it seeming too water-y before the "big simmer." It'll steam out. At this point give it a little taste test. More salt? More spice? More vegetables? Add what you think it needs. Every time I cook this it's a little bit different. Sometimes the vegetables are more flavorful than others, sometimes there is more chicken than others, etc. I added more cumin and salt to this batch, and about 1/4 a cup of salsa. Salsa is never a bad idea.
THEN YOU GET TO SCOOP THE SOUP. AND YOU ARE REALLY CLOSE TO EATING IT. Garnish with whatever makes your heart sing. I listed out what I used, but please be creative! (Confession: I also feel like Ratatouille when I grate the cheese off the block right into the bowl. I also kind of feel like a server at a fancy Italian restaurant. "Tell me when...")
The Face of an Angel.
The reason I love soup is the same reason I love writing: You can do almost anything. With baking? It needs to be pretty perfect. It's like math. It's a science with a formula and the most precise and careful win! Soup? It's a creative collaboration of trial, error, preference and taste! You could add rice to this, or black beans, or cover the top with cheese and broil it for a minute or so, or use more carrots, heck, I bet it would even taste good with some potatoes! Options are endless, my friends, endless. Go make your soup and eat it, too. And if your version tastes really bad, it's not because my recipe is flawed. It's because you're a bad cook. Haaaaa haaaa. Just playing, for one final time today ;)
And here is the handy-dandy print out! The ingredients and directions are color coded. So the part in pink will need the ingredients in pink, the part in gray matches up with the ingredients in gray, etc, etc! Oh, and remember, you can save this recipe to your a recipe pin board by pinning any of these photos! It'll always link back to this post :D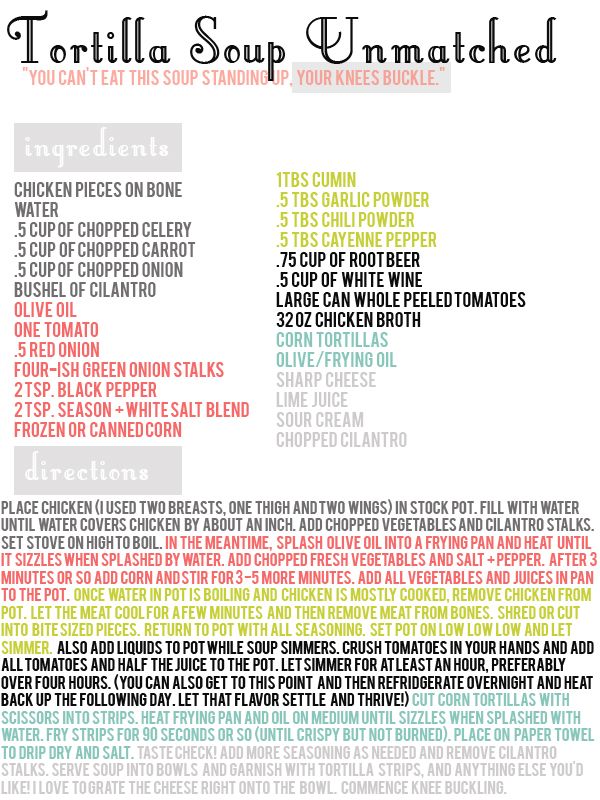 Let me know if you make it! And better yet: take pictures of it! I'd love to see your creation. Enjoy Tortilla Soup Unmatched!