Enjoy Project | Making Gift Boxes
success is fickle, but creativity is a gift.
Haaallloooo friends near and far! Though today's project was technically a Valentines gift, I cannot wait to use the idea again on client packages, birthday presents, baby shower gifts, and more! Wouldn't it be fun to write out a new baby's name? Or a couples' initials? Or one word you think just "fits" the occasion? I'll answer that: Yes, it'd be fun. You can obviously use as many or as few boxes as you need, for any occasion under the sun! Heck, you can make one and send it to me for no darn'tootin reason at all! BECAUSE FUN IS ALWAYS FUN, not just on special holidays. A'right. Let's get it on like Donkey Kong. To start with you need to print out letters and cut them out very, very carefully.
Next, you tape the letters onto your gift boxes (I bought 50 square boxes online... You can pretty much get these anywhere). I used painters tape (the blue or green kind) so that it would be easy to pull the letters off and they wouldn't rip or shred the boxes. Press the corners down hard!
And then spraaaaay awaaaaay! This literally took 11 seconds. So easy. If you wanted to tape along the sides of the boxes with painters tape, I'm sure that would look beautiful. I didn't because I'm lazy and dumb.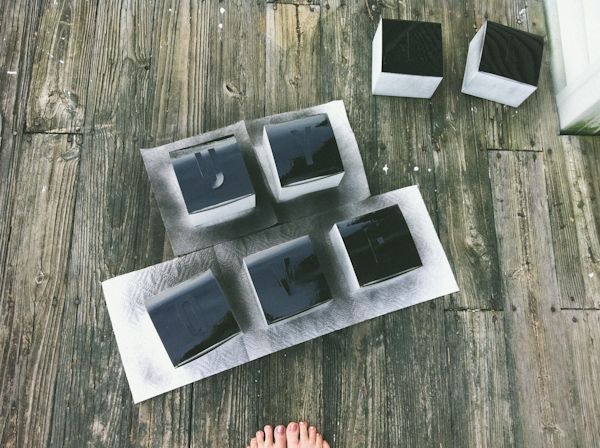 After the spray paint has dried for 15 minutes or so, peel the letters off! And wa-la! I used chalkboard spray paint... but I think you can use whatever kind you want. I think? I didn't try. Because I'm lazy and it was really cold outside.
This part of the project is a take-it-or-leave-it part ;) I wrote a word with a chalk pen (the kind they use at Starbucks or for menu boards at restaurants) that described my man starting with the letter on the box. Inside the box was a little gift that went along with that word. Somehow it really wasn't complicated... it seems trickier now that I'm typing it!
To contrast the dark and simple exterior, I wanted the insides of the boxes to be like exploding fireworks in a dark moonlit night! (Too much...? Yeah.)
Okay, so one of his "O" words outside the box was "Oh-so-kind!" (which is fully cheating, but YOU try to come up with a word starting with O that describes kindness!). Octopus on the oven (I'm trying to set a world record for "O" usage in a paragraph. Oliver.) Inside the "Oh-so-kind!" box was his favorite candy bars, so he'll "Stay Sweet!" Candy is sweet, sweet is kind, I'm kind and give him candy - it really all works so well. Oprah is at the opera in Oklahoma.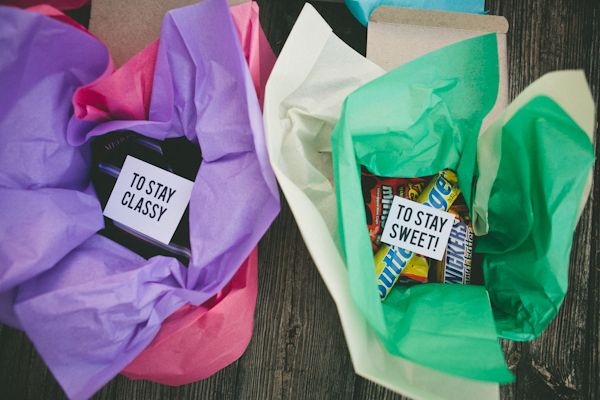 I filled these boxes up by paying next to nothing. Many of the items were either free treats in my gift box at
Alt Summit
(like the black
SquareSpace
beanie, canned Izze, and other items) or were bought using gift cards from
Alt Summit
(I got a free $20 gift card to
PinHole Press
just for attending their mini-party!) He also got a wooden pocket knife with his name engraved on it that I bought in
Park City
during the
Sundance Festival
for $9. Add some ever necessary mints and gum (come on, we ARE dating after all), cheap disposable cameras for a new date-night activity and a hand-written letter, and he really had it pretty good! Even though his girlfriend is a cheapskate ;) (He
instagrammed
all of his goodies if you want
to see
)
(I was pretty proud of my other O word: over-the-top. He is one of those people who has to go above and beyond in everything he does, he's not satisfied unless an idea is the very very best it can be. Basically, he's a perfectionist to the core. So his gift inside "over the top" was a blank
PinHole Press
notepad where I encouraged him "to stay dreaming!" I love all of his grand, nearly-impossible dreams.)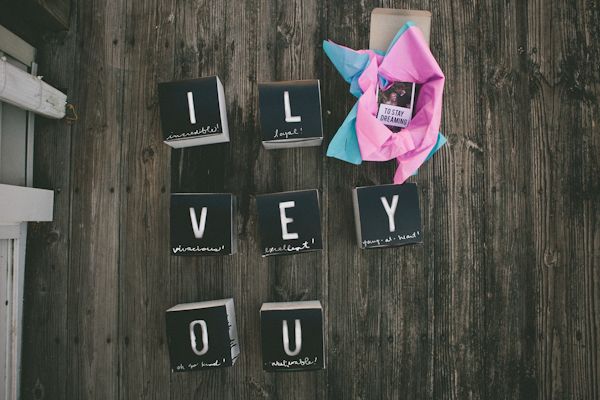 Turned out better then I expected!
To make sure the boxes didn't empty themselves during transportation (a friend hid them for me in his basement apartment), I tied these babies up with peach string! Which was two tons of total fun in and of itself.
Fun, huh? :)