FAQ: How did this all begin
Top of the afternoon to ya!
I have a few of these "FAQ's" lined up and today's is a bunch of different questions put into one. 
 ...
How did I start doing photography?
How did I start my business?
When did I know this is what I wanted to do?
...
Want to hear a little story?  I can tell you my little story.
I by NO means would say that this is the best, only or right way to start a business.  My business is weak in certain areas because of the way this all started, but I'm grateful to have this job I love and I'm amazed at how God has let this unfold.
Back in elementary school, I got a pink Barbie film camera for my birthday.  
In middle school, I bought probably 5 or 6 cheap film cameras.
I often used my mom's "nice" film camera, but knew I could

never

spend $200 on one for myself (ha!).
By 8th grade my mom upgraded to a film Canon Rebel.  I used it all the time, and the following spring I bought a 3.2 megapixel point-and-shoot.
Now, what was I doing with all these cameras?  What was I shooting?  Everything.  
Seriously.  Myself, my room, flowers, sporting events, my siblings, chairs, kids I baby-sat, shoes, buildings, squirrels, classmates, whatever.  
I have the boxes of old pictures to prove it.  And what was I doing with those pictures? 
 I was a frame and album junkie.  I would make little collages and give them to friends.  I would create little books for teachers surprise them.  I made "year-in-review" mothers day albums for my mom.  At Ritz, every time you developed a roll of film, you'd get a flimsy plastic album that held ten pictures.  I would decorate those and store them in my room.  I honestly spent

hours

 sorting pictures and creating things with them.  
I also spent

hours

upon

hours

on theknot.com.  It is quite embarrassing.   I had a friend who loved weddings too, so we would get together and plan weddings.  No joke.  
We would look for pictures of bridesmaids dresses and bouquets and hair-styles and venues even honeymoon locations, then print out pages of ideas.  I read every single forum that the "Knottie Brides" posted.  I would get in bed at night and draw ceremony lay-outs.  I'd have wedding dreams as I fell asleep. 
The summer I was to turn 15, a dear family friend was getting married.  Laurie had been a hero in my family.  My mom had cancer the whole year before, and Laurie served her face off.  She would come at night to help clean up dinner and give baths and read bedtime stories, and she would come during the day just to take kids to the park or fold laundry.  

I adored Laurie.  She was beautiful, funny, athletic, cool and such a servant.  And had a

boy

friend.  A boyfriend in the Marines.  And she was falling in looOooOoove with him.


When Laurie finally got engaged, her trips to my house were basically a chance for me to plan a

real

wedding. Now all my hours on The Knot and all my drawings had purpose! Meaning! I was helping someone!  (I actually don't think any of the things I found were used in Laurie's wedding, but hey, it made me feel better to know I was trying to help).
But more then planning her wedding, I wanted to photograph her wedding. Badly.


She had kindly looked at all my flower pictures.  She graciously "oooh-ed" at my pictures of little kids.  She listened to my woes and tribulations about buying a camera.  And she offered to let me second shoot at her wedding.  Laurie really is a DEAR.  
So on that hot but unusually dry August day, in the last few weeks of being 14, I second shot my first wedding.  
It just so happens that there has still never been a more beautiful bride or more beautiful wedding.  I guess I lucked out with my first one!  This wedding was on a summer evening at an old local mansion.  The whole area was surrounded by lush green trees and plants, with old stone walkways and paths.  The reception tables had flowing white linens dotted under two huge trees around a pond.  Guests were tan and wearing colorful dresses and ties. 
And Laurie was the most gorgeous woman I had ever seen. And the happiest.  And she deserved to be.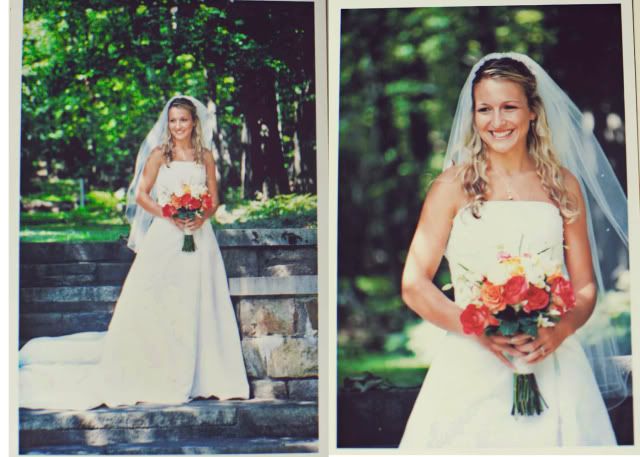 Some of these pictures from her wedding are still my favorite ever.  
They are innocent, naive, excited pictures.  
I had a film Minolta with a pop-up flash and Kodak 400 film.  It was set to "Auto" because I honestly didn't even know you could do anything else.  But I had butterflies in my stomach all day and could have practically fainted from happiness.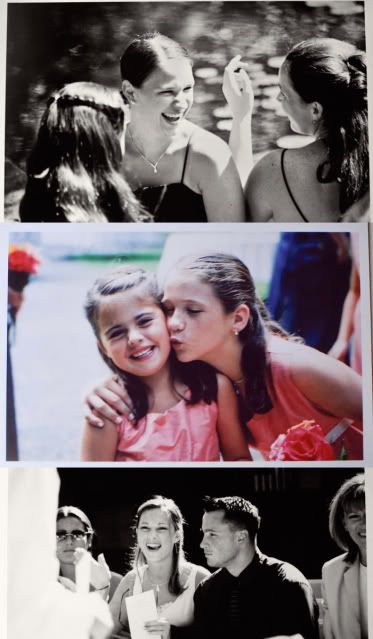 I had no clue what I was doing.  Zero.  I think I'd only even been to three other weddings in my life before this one.  I really had no where to go but up!  Oh how I wish I still had those 14 year old eyes with those 14 year old feelings.  


I noticed

every

thing that day.
Every bead in her dress.
Every smile and tear and laugh.
Every phrase in the vows.
Every touch and whisper and grin.
Every glance gave me shivers.
I had found my job.  I remember holding my hand over my heart watching Dave play Laurie a song on his guitar (he was all in love and nervous and I think he forgot some words, but it was just too much for my little heart) and I looked at the guests smiling around them, with a handful of candles flickering in the breeze and I prayed that I could do this forever.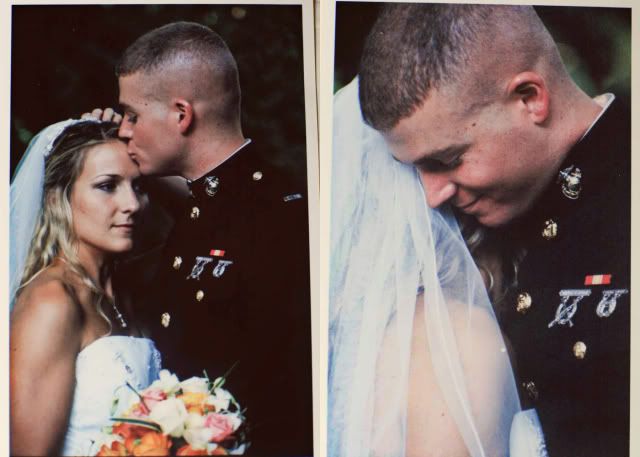 I watched Dave with Laurie.  I watched Laurie with Dave.  Is this real? Do people really fall in love like this?  And man alive, do people get to take pictures of people like this for their

job?

Sign me up pronto!


So how did I begin?  It began with obsession and ignorant confidence and a head full of ideas.  
God somehow took that little girl with flat hair, acne and a camera and put her "boundary lines in pleasant places."  Because honestly, I really am still a girl with flat hair, acne and a camera (seriously) but as this passion for wedding photography has grown, God has opened up door after door.  He has set a path for my life and business that I could not have dreamed of (and we all know that that isn't because of my lack of dreaming!) and I truly couldn't be happier or more grateful :D
It's been roughly 5 years, one internship, 50 weddings and about 643 lessons learned since Laurie's wedding and it's only the very beginning :D Yay!