What I wanted.
Hi :)

The last few weeks I have wanted to blog a lot. There have been many shoots, many little stories, many updates. For example, I wanted to let everyone know about sweet Elaini who doesn't know me, but saw her brother's engagement pictures and then spent a number of hours reading my blog. At the wedding, she gave me such a sweet and meaningful card (and a jar of pickles! which I am almost done with...). And I wanted to post about the signed Colbie Caillat & Jason Reeves CD that Hannah and Rob gave me, just to bless me. I was so, so blessed. I have wanted to blog about Jenny, my new friend and second shooter extraordinaire, who also gave me a jar of pickles (extra awesome pickles at that. sooo yummy!)
I have wanted to post about my soccer team. About the day my mom sent the boys out for a hair-cut and Mikey came back with a mohawk.
I've wanted to post Allie's senior pictures.
And Rebecca's senior pictures.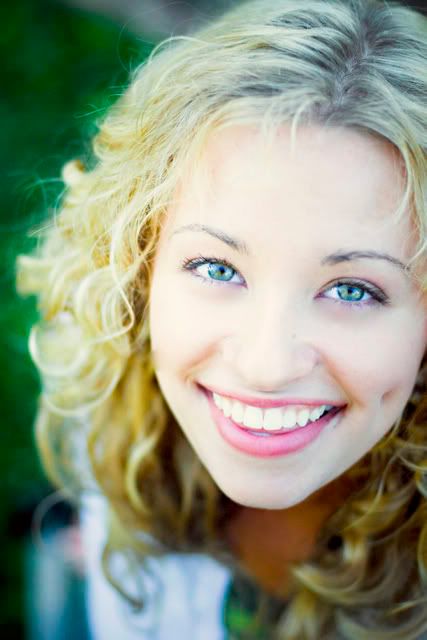 And Liz's senior pictures.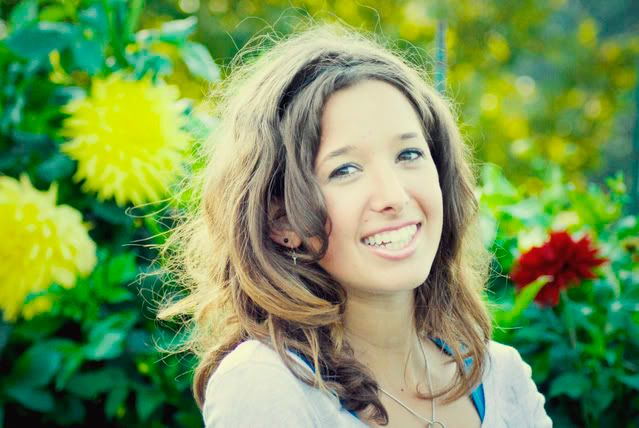 The whole Boisvert family was going to be blogged about by now (ps. huge congrats to Steve [third on the right] who just proposed to his girlfriend! So happy for you!)


The lovely Hollandsworth's also should have a post.


Oh poor Chavia. Her shoot was weeks ago.


As was the Duberstein's shoot....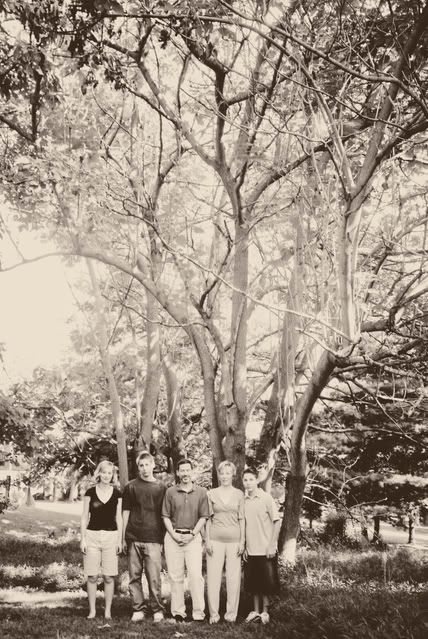 I was going to do a little 20th birthday tribute to Lydia (ps. 20??? when on earth did my friends become 20. I was so not ready for this.)


I got a manicure and it lasted practically forever. It was like 86 in manicure years.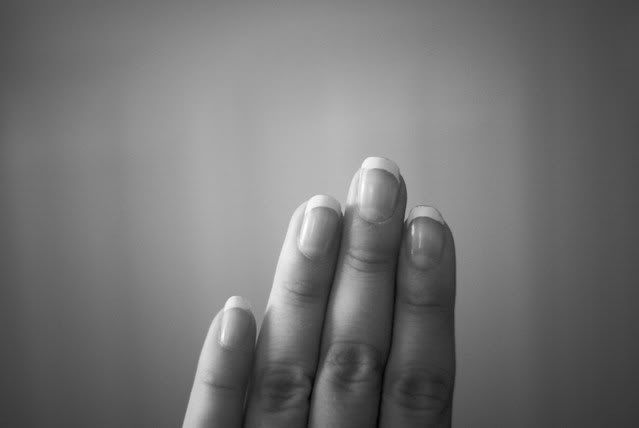 hehehhhahahHHAHha thanks to Peter for pointing this out at a past wedding. "Pick-up Line." I am such a middle-schooler sometimes.
"

Are your legs tired, because you've been running through my mind all day long. "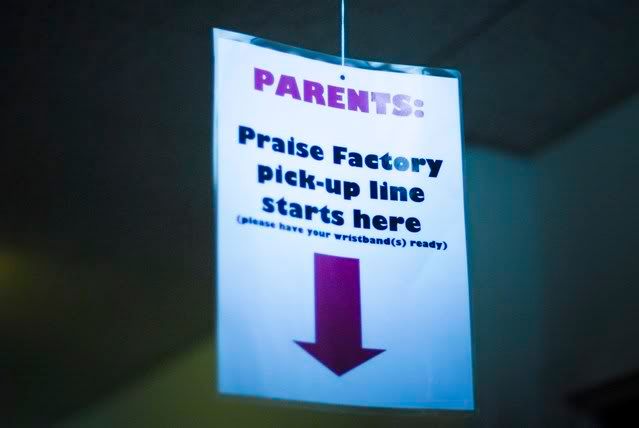 ..The Triathlon..



I have alsooo wanted to post about the triathlon that I was training for. And have completed, as of yesterday morning :D Since I am still so excited about that, I am going to actually now blog about triathlon weekend. Most of these pictures are credited to Lydia Jane, with an assortment of iPhone goodness thanks to Becca & Dre.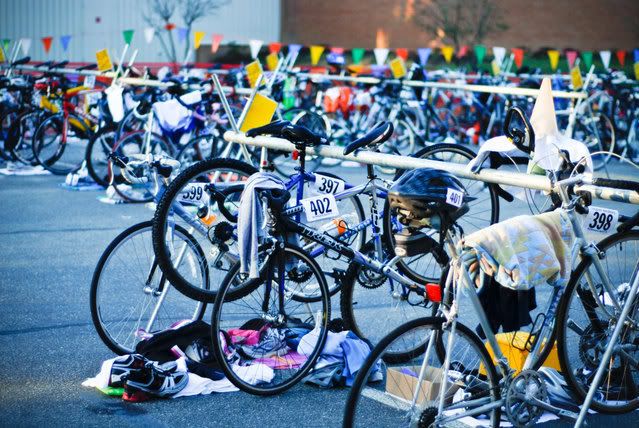 It all started back in July. Andree (my small group leader at church) had been inviting our group to come swim with him. David (who we all call D-sav) and I ended up being swim regulars. I had been wanting to do a race of some kind for a while and one night came across The Richmond Sprint Triathlon. I am quite spontaneous and make quick decisions, so I signed up on the spot.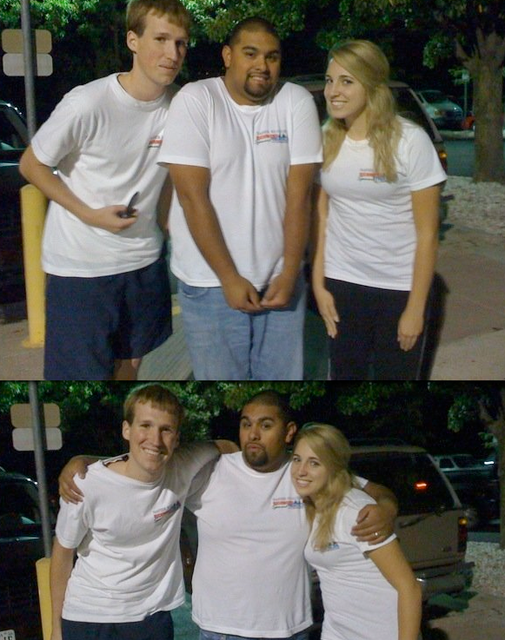 I am not sure how, but Dre and Dsav decided to do it with me. I guess Dre's wife Becca worked her wife-magic on getting Dre to do it. And Dsav is basically always up for anything at anytime, so he joined to team. We had a few months to prepare for our 400 meter swim, 12.4 mile bike and 3.1 mile run.


But somehow on Saturday afternoon when we arrived for our "Rookie Triathlete" meeting, we couldn't have felt more unprepared. We were horrified. We pulled up after our 2 hour drive, with our mountain bikes, generic, unbranded clothes and bellies full from McDonalds.
I don't think Barbie, Mr. Ironman or the pile of walking muscles we saw in the parking lot were particularly impressed. And we got scared.
Dsav announced he had been hit with a wave of nervous. We tried to nonchalantly swagger into the poolside meeting (which was hysterical. You'll have to check Dsav's blog later on for stories about that). I was trying to walk as athletic as possible. And it all fell apart when we saw the 50 meter pool "WHOA! That's SO big! Wow! Look at that!" We were pointing and "ooo-ing" like tourists at the Eiffel Tower.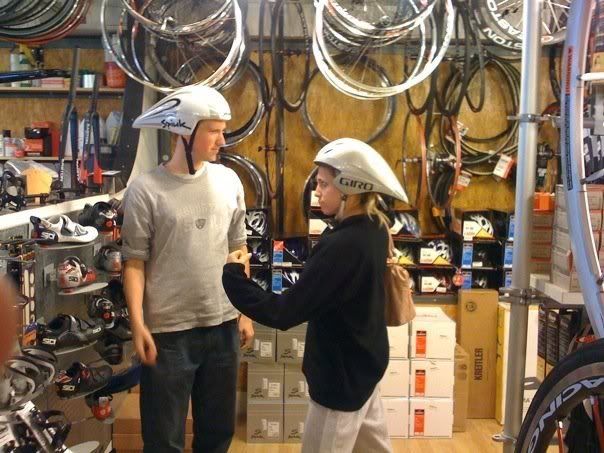 We made it through the meeting, and were happy to find out that we weren't the only ones wearing clothes from Target's sale rack or with fat cells. There were 200 other "rookie" racers (granted, some were 6-years-old [really], but who cares). Next stop was to get our race packet. Obviously Dsav and I had never been in a bike shop before. We were amazed at the gadgets and gear. And all of it wasn't helping my confidence. All we kept saying was "What are we

doing

here?" We received our bib numbers, were told our start times, bought energy gel (more on that later) and also got purple swim caps! Wootwoot!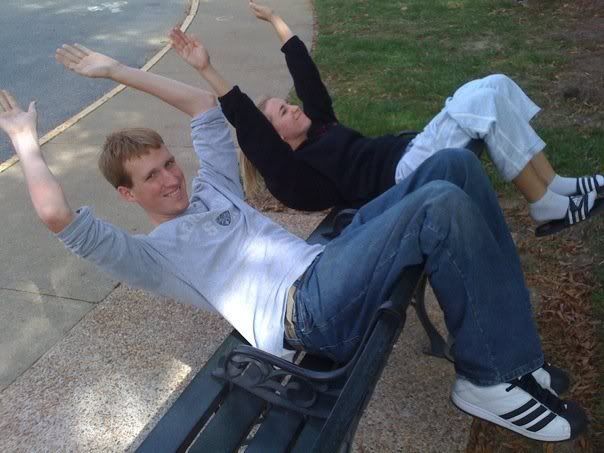 While waiting for our ride, we sat outside having ab contests (just in case anyone cool was watching. We wanted them to be

totally

unimpressed.) The rest of the day was spent eating carbs, checking into the hotel, seeing the sights of Richmond, laughing really really hard, trying on our clothes and scouting the course.
That was one of the most nerve-wracking things for me. I didn't want to get lost. I was sure I was going to end up getting disqualified from the race thanks to my sense of direction. Praise God I was ok. But, to our dismay, we found out that the middle of the bike route was basically a two-mile hill.
More spaghetti please?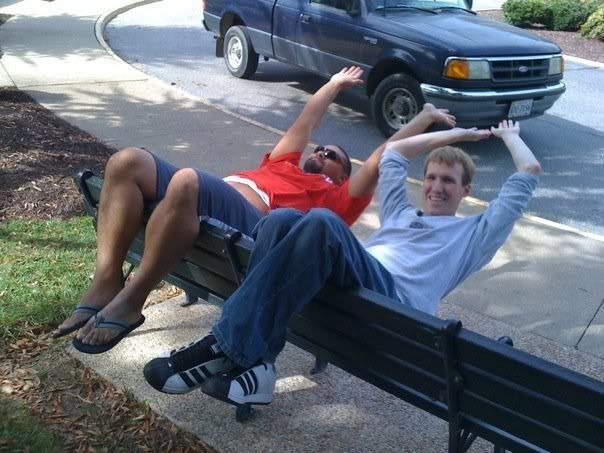 After all the adventures, we went to bed as early as we could, since we had to be awake at 6:00 am.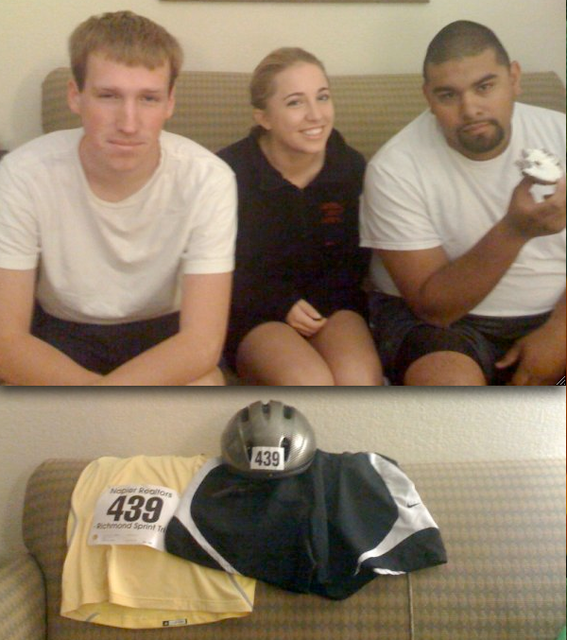 That whole morning was kind of a joke.
Dre was all gruff and focused.
Dsav was just blinky and wobbly.
I was a mess and it took me 19 minutes to get dressed and brush my teeth. Apparently I was giggly and excited. I can't even remember.


Then it was show time. As we were walking, Dsav said "Kristen is like a piece of glee being sandwiched by bread of doom." hahah It was the oddest feeling ever. Nerves, excitement, freaking-out, laughing, wanting to throw-up, being cold, getting lost, forgetting a water bottle (I would, right?) and then SO ready to just do it. All of the above.

I think I started feeling much better after I was dressed, marked (I LOVED the body marks. In fact, I haven't washed them off yet) and the race had begun. Since the swim portion was in a pool, we were seeded by swim time. Dre is the fastest swimmer, and went about 30 minutes before me. So me and Dsav hung out, prayed and flexed. We eventually found our mini-fan-club, Becs and Lydia, and they photographed us :D


I am not really a fan of my face in a swim-cap, but whatever. I love Lydia and love that she came, despite being busy and having school, she was our little groupie and made the trip extra fun. I loved when she would spot me and scream and yell and run around and wave her sign in the air. I just loved it :D Thanks Lydia.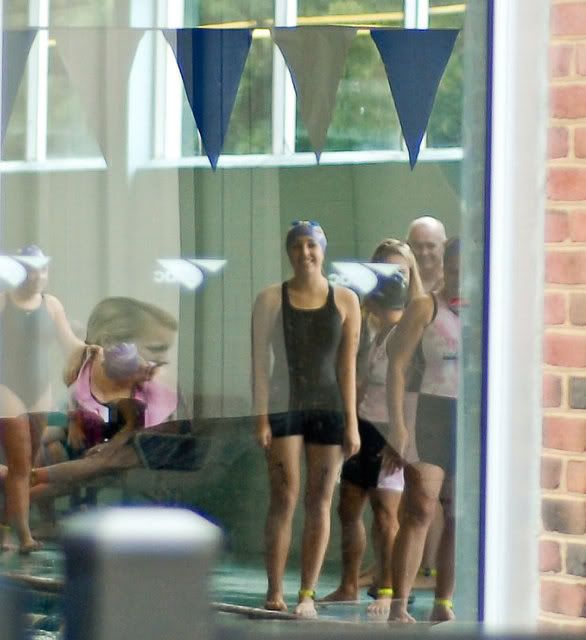 After Dsav started, I had ten-ish minutes left to myself. I felt like I should stretch, so I wandered over to some other people who were stretching. I waved my arms around for a bit, twisted my back, touched my toes. Awesome. All done. Then I went over to wait. Wait for 8:58 am and forty five seconds. And at exactly that time, I dove in. I think I had some adrenaline rush, cause I let the pool with more energy then when I got in.


Off to "T-1" where I got my bike equipment, and started the next leg. It was definitely the hardest part for me. By faaar. I couldn't wait to get off an run. I almost skipped off my bike I was so glad to be done. The hill stunk, the cold air stunk, the dozens of people wizzing by me stunk. But Dsav and I actually rode the whole thing together and that was awesome. SO glad he stayed with me!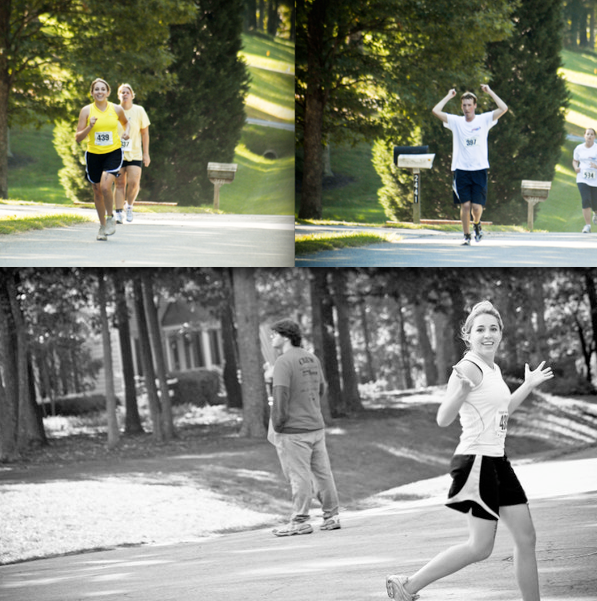 Happily, the run went much better then the bike and before I knew it, it was over! And what an unreal, happy feeling. It was SOOOO fun. Sososososo fun. I would do it again in a heartbeat. In fact, I am looking for some to sign up for in the spring. I just loved it.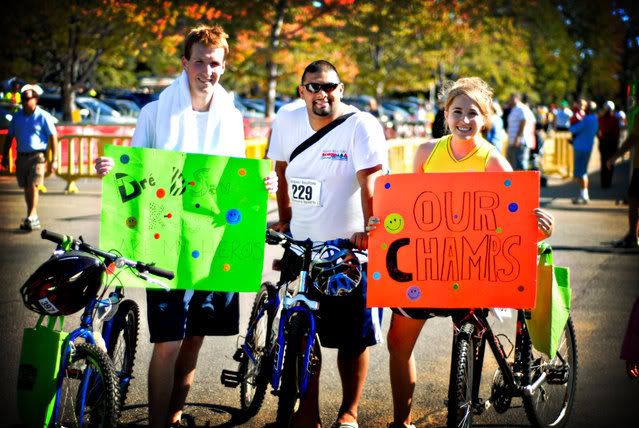 But I don't think I could do it without Dre and D-sav, too. So you guys better do it again in the spring with me! Both of these guys are awesome friends and have made this whole triathlon experience so much better. They make me laugh, they worked so hard, they pushed us all and, again, are just absolutely hysterical. I am SO proud of you guys and am SO glad that you did it. Wasn't it so fun? Like ohmygoodness?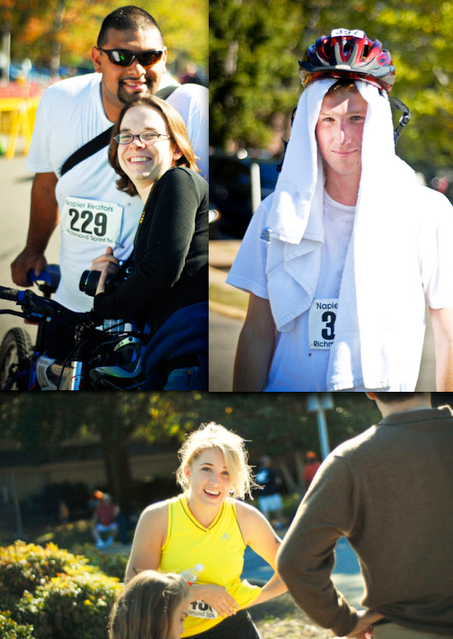 And Becca? You're the best. Thanks for getting Dre to do it, for being Team Mom and making sure everything went smoothly and for being the best, supportive wife ever :D You are too sweet :D I love being with you!
And Daddy and the ladies! I don't really have pictures of you, but THANK YOU THANK YOU THANK YOU for coming! I almost cried I was so happy when I was coming down that hill and saw your car! And the little heads popping out the window waving. It meant so much that you came and cheered me and (and made me sprint at the end ;D)
I love you!

Phew. Long enough post? Did it make up for the last week? I hope? haha